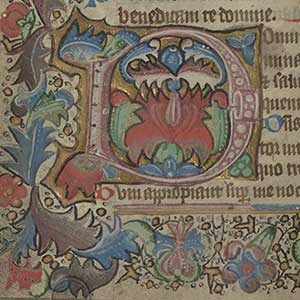 A collection of more than 240 rare medieval and early modern manuscripts has been made available online by the National Library of Scotland.
Most of the manuscripts, which can be accessed on the early manuscripts website, are available online for the first time. The digitisation of the manuscripts was made possible by a generous donation from Mr Alexander Graham.
In addition to stunning illuminations, the collection includes some unusual items. The 'Borthwick Girdle Book' is a 15th century astronomical and medical almanac that could be worn on a belt when folded up. Another, 'Regula of the Knights Templar', offers 12th-century advice on the 'superfluity' of beards and moustaches. The manuscripts also provide insight into the medieval scribes who produced them and even their later owners, who sometimes added annotations or doodles.
Although a few later transcriptions are included, the manuscripts mostly date from the 9th to 16th century. Some of the manuscripts were produced in Europe, but the Scottish manuscripts are among the rarest in the collection. They include religious volumes that survived what is thought to be the destruction of over 90% of religious manuscripts during the Reformation in Scotland (1560).
The subjects and highlights page shows some examples of medieval doodles and illuminations.
3 May 2022