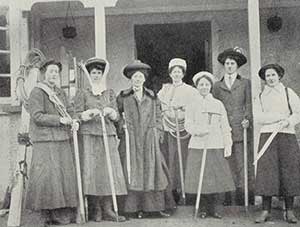 Ladies Climbing Club meet,
Glen Dochart, 1909.
Stories of challenge and change are a major theme in the National Library of Scotland's programme of forthcoming exhibitions.
A highlight of the programme for 2020 announced by the Library today (30 December) is 'Petticoats' and Pinnacles'. Opening in October 2020, this exhibition looks at the Scots women who overcame social convention to pursue their dreams of travel and exploration.
'Her Century: Scottish Women on Film', running from June-August, is a curated film of women's experiences of major social changes from the Edwardian era to the Thatcher years. 
In focus in late 2020 is Henrietta Liston's account of being in of the Ottoman Empire during her husband's diplomatic mission at the time of the Napoleonic Wars.
Also coming up are:
The poetry, drama and music of Allan Ramsay
The archive of the Stevenson family of engineering and lighthouse fame
The Elizabeth Soutar Bookbinding Competition.
As well as detailing the exhibitions, the Library has revealed that a new exhibition gallery will open in 2020, featuring items from the Middle Ages to the present day. Among the exhibits will be relics of the printed word, extremely rare moving image and sound recordings, and material from personal archives.
Read more in the exhibitions programme news release.
See also:
30 December 2019
Additional