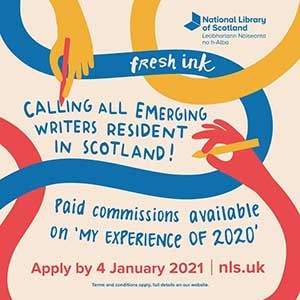 Original works by 10 emerging writers have been added to the National Library's collections.
Fresh Ink, a Library initiative seeking new literary talent and diverse, contemporary voices in Scotland, launched in December. As part of its commitment to capturing the nation's memory, the Library asked applicants to pitch a literary response to the theme 'my experience of 2020' in their chosen genre or form.
From the 250 writers that submitted a pitch, a panel selected 10 to receive a bursary of £1000 in exchange for their work.
The selected commissions have been described as a 'series of brilliant evocations of living through a time of unique change' that 'illuminate, challenge, comfort, and intrigue'. They include fiction, non-fiction, poetry, a play and a comic.
Writer Nadine Aisha Jassat, who led the initiative, will be in conversation with the writers in an online event on Thursday 15 July.
All 10 Fresh Ink commissions are available online.

12 July 2021
Additional