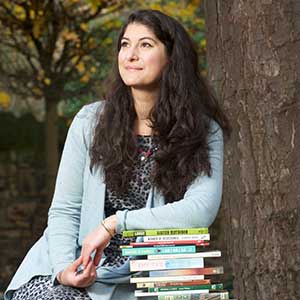 Nadine Aisha Jassat is leading the new
initiative for emerging writers.
Photo © Scottish Book Trust
'Fresh Ink' is a new National Library of Scotland initiative to support and develop emerging literary talent.
Led by poet, writer and creative practitioner Nadine Aisha Jassat, the initiative is calling on applicants to pitch their proposed response to the theme 'my experience of 2020'.
A panel will award up to 10 emerging writers a bursary of £1000 in exchange for their work. Commissioned pieces will be added to the national collections.
The Library is particularly keen to hear from LGBTQ+ and BAME writers, women, writers from all socio-economic backgrounds and writers with disabilities. Applicants must be aged 18 and over and resident in Scotland. Applications close on 4 January 2021.
See the Fresh Ink initiative page for further important dates and information on how to apply.
Read more in the Fresh Ink news release
1 December 2020
Additional