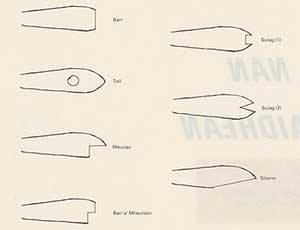 Sheep ear tagging shapes.
Creative approaches to Gaelic language and culture during the 1980s are being sought by the National Library of Scotland.
Five funded opportunities are available to bring 'the Gaelic 1980s' to life using specified material from the Library's collections.
In return for a grant of up to £1,250 provided by Creative Scotland, each successful applicant will produce a piece of work or a recording documenting their creative response. The five completed works will be:
A song
A piece of visual art, or art installation
A craftwork referencing sheep ear tagging shapes
Creative writing based on a film about Iona
A school playground game.
Monday 24 February is the deadline for applications.
Gairm airson freagairtean ealaineach a thaobh Gàidhlig sna
Tha Leabharlann Nàiseanta na h-Alba a' sìreadh seallaidhean cruthachail mun Ghàidhlig agus a cultar anns na 1980an.
Tha còig cothroman ann gus '1980an' na Gàidhlig a thoirt beò a' cleachadh stuthan sònraichte bho chruinneachaidhean an Leabharlainn.
Bheir Alba Chruthachail tabhartas seachad de suas ri £1,250 agus airson seo, bidh aig gach tagraiche soirbheachail ri pìos obrach no clàradh a dhèanamh leis an fhreagairt chruthachail aca.
Is iad na còig pìosan ealain a thèid a dhèanamh:
Òran
Pìos de dh'òbair dhealain, no stàladh ealain
Pìos de dh'obair ceàird ceantailte ri na cumaidhean aig comharraidhean-cluaise nan caorach
Sgrìobhadh cruthachail stèidhichte air film mu Eilean Ì
Geama raon-cluich sgoile.
Is e Diluain 24 Gearran.
Barrachd mu fhreagairtean ealaineach a thaobh 1980an na Gàidhlig
24 January 2020
Additional