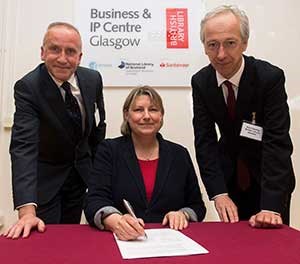 National Librarian Dr John Scally,
Glasgow Life Chief Executive,
Dr Bridget McConnell CBE and
British Library Chief Executive,
Roly Keating launch the new centre.
Scotland's first Business and Intellectual Property Centre has opened in Glasgow with the National Library as one of its partners.
Based at the Mitchell Library, the new Business & IP Centre will support entrepreneurs and help small companies start, protect and grow their business.
Free access to a wealth of business and intellectual property resources including information on patents, trademarks, design and copyright will be provided by the service.
Working with organisations including Scottish Enterprise, Business Gateway, and the Chamber of Commerce, the centre will offer free and low-cost workshops and events to support people in business.
The partnership behind the service includes the British Library and Glasgow Life, with Santander as founding partner. The centre is the 12th National Network Centre, modelled on the British Library's Business & IP Centre.
Find out more about the services on offer at the Business & IP Centre Glasgow website.
30 April 2019
Additional