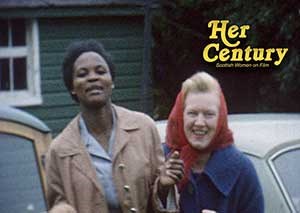 A programme of archive film focusing on women in 20th-century Scotland has its online premiere on Monday 20 July.
'Her Century' is a curated collection that shows the variation in ordinary women's roles over the past 100 years. It uses material from the National Library of Scotland's Moving Image Archive, including amateur footage, educational and promotional films, and propaganda.
Women represented in the programme include factory workers, pilots, mothers and crofters, seen in films from a century marked by rapid social change.
A partnership with Film Hub Scotland, 'Her Century' toured cinemas throughout the country in the lead-up to lockdown. During the summer it was to have been the main attraction at the Library's George IV Bridge building.
Now it will be available to view online for the next two months. Monday's live screening on YouTube (at 17.00) will include a chance to chat with the programme's curator, Dr Emily Munro.
Read more in the 'Her Century' news release.
17 July 2020
Additional