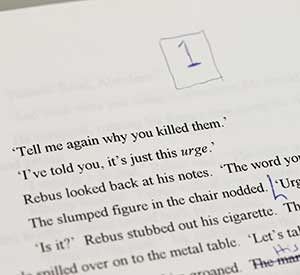 Annotated typescript from the archive.
Celebrated crime novelist Ian Rankin has donated his literary archive to the National Library of Scotland.
With material dating from 1972-2018, the archive is described by Ian Rankin himself as 'a pretty complete author's life, late 20th-century-style'.
The Rankin archive comprises approximately 50 boxes of material, including typescripts with the author's handwritten notes and annotations.
Correspondence with literary figures such as J K Rowling, Iain Banks, Val McDermid, Jilly Cooper and Ruth Rendell also forms part of the collection.
Ian Rankin used the Library for his own research and credits parts of the George IV Bridge building as providing inspiration for scenes in an early Inspector Rebus novel.
The Library also announced that it will recruit a curator for the archive, to catalogue and promote it and help ensure it is made widely accessible.
This newly created curator post has been made possible through a substantial donation from Ian Rankin, as well as generous donations from the W M Mann Foundation and the Gladys Krieble Delmas Foundation.
Read more in the Rankin archive media release.
23 May 2019
Additional