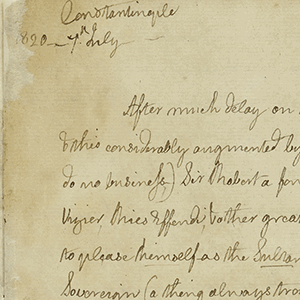 The early 19th century Turkish journals of Scottish diarist and traveller Henrietta Liston are now available to read online.
Liston lived in Constantinople with her husband Robert, British Ambassador to the Ottoman Empire, from 1812-1820. During this time, she kept journals recording of her experiences in the Ottoman Empire.
The National Library of Scotland's website 'The travels of Henrietta Liston', which already features Liston's North American travel journals, has been expanded to include her Turkish writings.
Among the supplementary material on the website are long reads, such as essays and a short story, written by contributors in response to the journals. An interactive map offers a visual representation of some of Liston's journeys, with links to journal entries relating to specific places she visited.
The Turkish journals will be published in print for the first time in the book 'Henrietta Liston's Travels: The Turkish Journals 1812-1820'. Published by Edinburgh University Press, it is co-edited by the Library's Curator of US and Commonwealth Collections, Dora Petherbridge.
Read more in the Henrietta Liston news release
2 November 2020
Additional