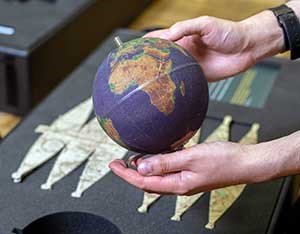 A maps display from the National Library of Scotland has opened at Stirling Central Library.
Based on a past exhibition of the same name, the 'You are here' touring display features images of some of the millions of maps held at the National Library.
The display invites visitors to ponder the wonder and brilliance of maps. A series of panels explores questions about maps and mapping, such as:
How is the spherical world made flat?
Why is north at the top?
Why do maps have a scale?
Visitors can also handle map-related objects in an interactive box.
This is the third of the National Library's touring displays, giving people across Scotland a chance to connect with its collections.
3 July 2019
Additional