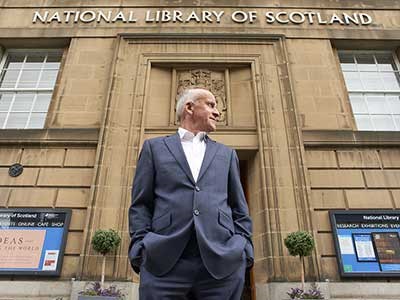 National Librarian Dr John Scally
Dr John Scally, National Librarian and Chief Executive at the National Library of Scotland, has announced he will retire in October.
Dr Scally has been National Librarian for the past seven years.
During this time, he launched the Library's Data Foundry, oversaw the redevelopment of the Library's Causewayside building in Edinburgh, and the establishment of the Library's state-of-the-art facility, home to the Moving Image Archive, at Kelvin Hall in Glasgow. Online visitors to the Library website have doubled since 2014, while visitors to exhibitions and events at the Library's George IV Bridge building have increased to more than 100,000 a year.
Dr Scally has also been involved in the acquisition of a number of noteworthy collections, including the Ian Rankin literary archive, the MacKinnon photograph collection, and Scotland's first printed work, the Aberdeen Breviary (1509).
Last year he launched the Library's five-year strategy 'Reaching people', which commits the organisation to engaging with its audiences in new ways.
27 January 2021
Additional