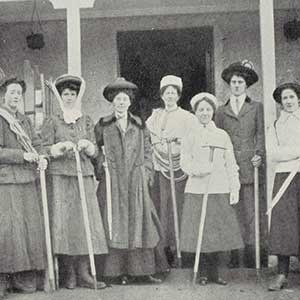 Ladies' Scottish Climbing Club, 1929.
Two new free exhibitions mark the reopening of more of the National Library of Scotland's George IV Bridge building to the public.
Opening on 10 July, the exhibitions will focus on ground-breaking, adventurous and unconventional women of the 19th and 20th centuries.
The Library's major exhibition, 'Petticoats and Pinnacles: Scotland's pioneering mountain women', showcases the stories of women mountaineers with a connection to Scotland from the 18th century through to the modern day. Many of them were also writers, artists, botanists and photographers. The exhibition explores their relationship with the mountains and their achievements, including the first all-female expedition to the Himalayas in 1955.  Items such as journals, photographs, letters, and climbing equipment will be on display. 
Collections in Focus display, 'The Eye of a Stranger: Henrietta Liston's travels', features the 200-year-old travel journals and letters of Glasgow woman, Henrietta Liston. Following her Scottish diplomat husband's appointment as British Ambassador to the Sublime Porte, the Listons travelled to Constantinople (Istanbul) in 1812. A botanist and travel writer, Henrietta spent years observing and documenting international relations and local customs.  
Anyone planning to visit the exhibitions must book their free tickets in advance.
These are the first public activities to be held at the Library since the exhibitions space closed 15 months ago due to Covid-19.
5 July 2021
Additional