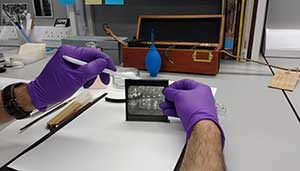 A glass slide photograph is
cleaned by a conservator.
This year's Annual Appeal aims to raise the funds to conserve some of the National Library's most at-risk photography collections.
There are almost 400,000 photographs across all parts of the National Library of Scotland's collections, many of which are fragile and at risk. Photographs in formats such as calotypes, salt prints and newspaper are in particular need of immediate attention.
The appeal aims to raise the funds needed to keep these collections safe for the longer term. Support for the appeal will enable the Library's expert conservators to treat and safeguard irreplaceable photographs for years to come.
Last year's appeal successfully raised £30,000, which the Library used to create a digital version of the Encyclopaedia Britannica, opening it up to all in its 250th year.
11 November 2019
Additional