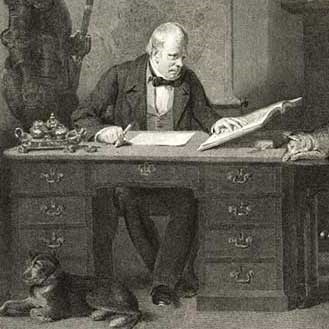 A display celebrating Sir Walter Scott's contribution to the historical novel has opened at the National Library of Scotland's George IV Bridge building.
'Sir Walter Scott and the Historical Novel' features the original manuscript of Scott's novel 'The Heart of Mid-Lothian' in his own hand, alongside correspondence and engravings. The Library holds the largest collection of Scott's literary manuscripts, papers and correspondence.
Artworks by Edinburgh College of Art students accompany the display. The first-year students created illustrations inspired by scenes from 'The Heart of Mid-Lothian'.
This year marks the 250th anniversary of Scott's birth. The Library is part of 'Walter Scott 250', a partnership network honouring the anniversary through various events and projects over 2021 and 2022.
Find out more about visiting on the exhibitions page.
16 November 2021