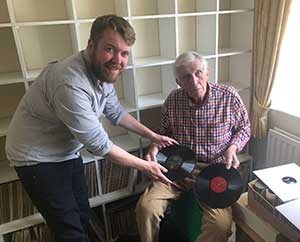 Sound Collections Curator Alistair Bell
with Mr Dean-Myatt and discs
from his collection.
A music enthusiast has donated more than 10,000 sound recordings to the National Library of Scotland.
7,500 shellac discs represents the final part of a collection of sound items donated by William Dean-Myatt.
Mr Dean-Myatt amassed the collection over a 70 year period and has already given 3000 recordings to the Library. Most of the 78s in the Library's collections formerly belonged to Mr Dean-Myatt.
As well as shellac discs, the collection includes vinyl records, cassettes and a small number of wax cylinders. Many rare and unique items are also included.
A lifetime compiling a rich collection
Mr Dean Myatt's interest in 78s of Scottish music stemmed from the music played by his relatives in Scotland. From his music research, he compiled 'The Scottish Vernacular Discography'.
Genres featured in the collection include Gaelic songs, Scottish music hall recordings and fiddle and bagpipe music.
Jimmy Shand, Harry Lauder and Heloise Russell-Ferguson are some of the artists represented.
Many of the collection items have already been catalogued and details can be accessed via Library Search. Digitisation of the recordings has also begun, with a view to making them available online.
Read more in the Shellac discs donation media release.
30 September 2019
Additional