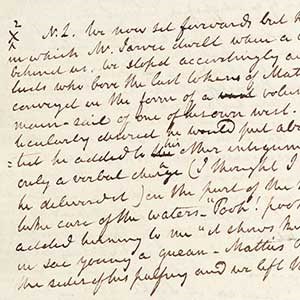 Image courtesy of Sotheby's.
The National Library of Scotland's appeal to bring home precious manuscripts by Scotland's bards has been successful.
Known as the Blavatnik Honresfield Library (formerly Honresfield Library), the collection was curated by a Rochdale businessman in the 1800s. It includes manuscripts and handwritten letters by Robert Burns, and Sir Walter Scott's working manuscript of 'Rob Roy'.
Unseen by the public for almost a century, the collection was due to be sold at public auction. The National Library worked as part of a UK-wide consortium to successfully delay the auction to allow time to raise the £15 million needed to save the material. The consortium's fundraising appeal was led by the Friends of the National Libraries.
In Scotland, the National Library worked with Abbotsford and the National Trust for Scotland to raise the funds. Several organisations, hundreds of individual donors, the Scottish Government, the Foyle Foundation and the National Heritage Memorial fund generously donated to the appeal. The balance was funded by Sir Leonard Blavatnik, who contributed the largest amount ever given to the UK by an individual for a literary treasure.
Once the Scottish organisations take possession of the materials, they will work towards conserving the key works and making them publicly accessible.
See also:
16 December 2021