Treasures on show in new Library exhibition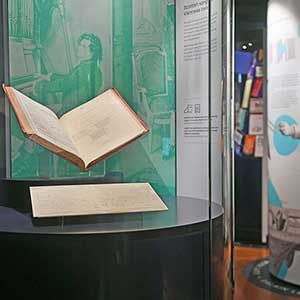 The National Library of Scotland has opened a new permanent exhibition at its main Edinburgh building.
'Treasures of the National Library of Scotland' features items from the breadth of the Library's collections. Exhibits range from early printed books to video installations, and provide a unique insight into Scotland's history, culture and people.
Among items on display are:
Timothy Pont's ground-breaking maps
Belongings of pioneer Isobel Wylie Hutchison
A letter from Charles Darwin about 'On the Origin of Species'
A letter from Ludwig van Beethoven about arrangements for a Scottish song
A complete Gutenberg Bible,
international first editions of Harry Potter,
The sounds of James Scott Skinner – 'King of Speyside' - captured on wax cylinder
Robert Burns's handwritten 'Ae fond kiss'.
Exhibits include key pieces on long-term loan from the National Galleries of Scotland. Some displays will be refreshed every six months to explore the many rich facets of the Library's archives.
Interspersed with the display cases are interactive displays, localised audio tracks, archival film footage, and specially commissioned new writing and film in partnership with Neu! Reekie!
'Treasures of the National Library of Scotland' is open Mondays to Saturdays and admission is free.
25 March 2022