Sign up for our email newsletter
Saving Scott and Burns manuscripts for the nation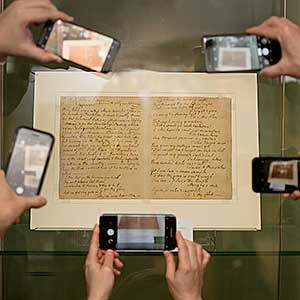 National Library visitors photographing
a Robert Burns manuscript.
Photograph by Angela Catlin.
The National Library of Scotland has launched an appeal to bring home some of Scotland's most important literary manuscripts.
Sir Walter Scott's handwritten manuscript for 'Rob Roy', and Robert Burns' earliest surviving poems in a 'Commonplace Book' are in a privately owned collection. If the appeal is successful, the manuscripts will return to Scotland.
Known as the Honresfield Library, the collection of 500 items also includes letters penned by the Brontë siblings, Jane Austen and Lord Tennyson.
Following its appearance on the open market via an auction, a consortium of organisations, headed by the Friends of the National Libraries, formed to save the collection. Scottish participants include the National Library, the National Trust, and Abbotsford (the home of Sir Walter Scott). The auction was paused to give the consortium the opportunity to fundraise and buy the collection without competition.
To learn more about the appeal, or to donate, visit the 'Bring the Bards Home' page.
6 October 2021
Climate change documentary to tour Scotland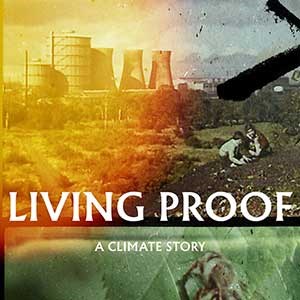 A feature-length documentary about the climate crisis, directed by the National Library of Scotland's Dr Emily Munro, is set to tour the country.
'Living Proof: A Climate Story' explores Scotland's complex relationship to the global climate crisis using archive footage from the Library's collections. It revisits Scotland's post-war environmental and economic landscape to examine the impact of past decisions and consider the planet's future.
Footage presents corporate voices, news reporters, protestors, and the general public, and spans the central belt, rural southern Scotland, the Highlands and the North Sea.
Contemporary Scottish artists Louise Connell, Brownbear and Post Coal Prom Queen feature on the soundtrack.
Created as a partnership project with Film Hub Scotland, screenings of the film at the Take One Action Film Festival in Glasgow and Edinburgh sold out.

See also:
6 October 2021
National Library of Scotland welcomes new Chair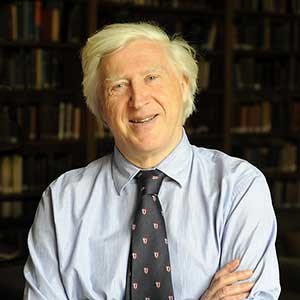 Sir Drummond Bone.
Sir Drummond Bone has been appointed Chair of the National Library of Scotland.
Educated at Ayr Academy, University of Glasgow and Balliol College, Oxford, Drummond Bone began his career as a professor of English. He has masters degrees from Glasgow and Oxford Universities, and doctorates from Glasgow and Edinburgh Universities. He also holds a number of honorary degrees in literature. 
His extensive previous experience includes chairing the:
Arts and Humanities Research Council
Liverpool Capital of Culture Company
UK Libraries Research Reserve Project
Northern Way's Science and Innovation Committee.
Following a position as Senior Vice-Principal at University of Glasgow, he became Principal at Royal Holloway University of London and Master of Balliol College. He has also been consultant to many organisations in the Higher Education sector. Currently, Bone is the Chair of the Wordsworth Trust.
The four-year appointment will run from 1 October 2021 to 30 September 2025. 
Read more in the Board Chair news release.
1 October 2021
Library launches Gaelic version of its search service
A Gaelic translation of the National Library of Scotland's search service gives Gaelic speakers wider access to the Library collections.
Library Search allows people to find details of the Library's hard copy and digital collections, including selected publishers' databases. Lorgaire Leabharlainn offers the same service in Gaelic.
As well as increasing access to the Library's significant collection of Gaelic material, the service aims to encourage and promote the use of the Gaelic language. It also supports the National Gaelic Language Plan's goal for Gaelic to be used more widely.
The Bòrd na Gàidhlig Gaelic Language Act Implementation Fund provided a grant for the project.
Anyone can use Library Search. Only Library members can request materials for consultation in the Edinburgh reading rooms and access certain digital materials and database subscriptions. It is free to join the Library.
Read more in the Gaelic Library Search news release.
21 September 2021
Leabharlann a' foillseachadh tionndadh Gàidhlig den t-seirbheis-luirg aice
Tha eadar-theangachadh Gàidhlig den t-seirbheis-luirg aig Leabharlann Nàiseanta na h-Alba a' toirt cothrom nas fharsainge air cruinneachaidhean na Leabharlainn do luchd-labhairt na Gàidhlig.
Bidh Library Search a' leigeil le daoine fiosrachadh a lorg air na cruinneachaidhean fiosaigeach is didseatach aig an Leabharlann, a' gabhail a-steach stòran-dàta bho fhoillsichearan air an taghadh gu sònraichte. Tha Lorgaire Leabharlainn a' tabhann an aon seirbheis ann an Gàidhlig.
A bharrachd air a bhith a' meudachadh ruigsinneachd air a' chruinneachadh mhòr de stuthan Gàidhlig aig an Leabharlann, tha an t-seirbheis ag amas air daoine a mhisneachadh is a bhrosnachadh ann a bhith a' cleachdadh na Gàidhlig. Tha i cuideachd a' cur taic ri amas Plana Nàiseanta na Gàidhlig airson Gàidhlig a bhith ga cleachdadh nas fharsainge.
'S urrainn do dhuine sam bith Lorgaire Leabharlainn a' chleachdadh. Chan urrainn ach buill na Leabharlainn iarraidh a chur air stuthan airson co-chomhairleachaidh anns na seòmraichean-leughaidh againn an Dùn Èideann agus cothrom fhaighinn air feadhainn de na stuthan didseatach is sìnteasan do stòran-dàta. Gheibhear ballrachd anns an Leabharlann an-asgaidh.
Leugh barrachd anns an fhios-naidheachd mu Lorgaire Leabharlainn.
21 Sultain 2021
Web archive project to explore pandemic misinformation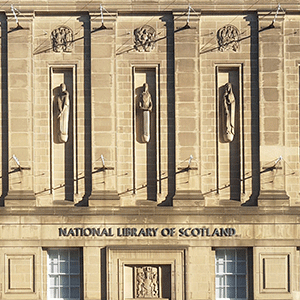 A project to preserve and explore information and misinformation about health and the Covid-19 pandemic has secured funding from the Wellcome Trust.
Starting in December, 'The Archive of Tomorrow' project will preserve 10,000 websites relating to health, both official and unofficial, from the past 18 months. They will form the 'Health and misinformation' collection within the UK Web Archive, giving researchers and members of the public access to a wide representation of diverse online sources.
One of the project's objectives is to ethically capture and describe misinformation and fake news for posterity.
Other aspects will include exploring best practice in preserving information published on the web, building up a research network across a range of disciplines, and supporting different research approaches.
Running the project will be a partnership led by the National Library of Scotland, with £230,958 of Wellcome Trust funding.
Read more in the health information project news release.
14 September 2021
National Library announces new Chief Executive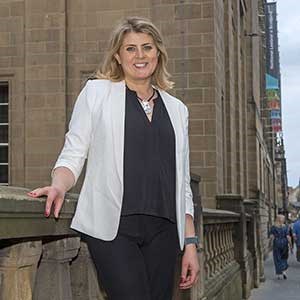 Amina Shah has been appointed as the National Library of Scotland's new Chief Executive and National Librarian.
Shah, who joins the Library from the University of St Andrews Libraries and Museums, has more than 25 years' experience in the sector, including public and academic libraries. In addition to her wealth of leadership experience, she was recently a member of the Library's Board.
As former Chief Executive Officer of the Scottish Library and Information Council, she led on the development of Scotland's first National Strategy for Public Libraries. She has a strong interest in diversity and inclusion and the role libraries, literature and culture play in empowering individuals and communities. In her previous role of Director of Programme at the Scottish Book Trust, Shah worked to promote literacy and a diverse reading and writing community in Scotland.
Following the current National Librarian John Scally's retirement on 1 October, Shah will take up her new post on 4 October.
Read more in the Chief Executive news release.
16 July 2021
2021 Scots Scriever appointed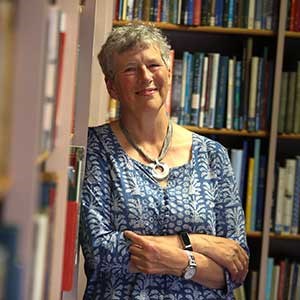 Writer Alison Miller has been appointed as the 2021 Scots Scriever.
Based at the National Library of Scotland and Orkney Library & Archive, the one-year Scriever residency was created to celebrate the Orcadian dialect. It is supported by funding from the National Lottery through Creative Scotland.
As Orkney Scriever, Miller will work to raise the profile, understanding and appreciation of Orcadian and Scots by producing original work, as well as working alongside local communities in Orkney.
Miller brings a wealth of experience to the role. A writer in both Orcadian and English, she is a published author and creative writing workshop facilitator. She has also written short stories, essays and poetry reflecting on life in Orkney, island life, language and literature.
The residency also provides the opportunity to research collections at both the National Library of Scotland and Orkney Library & Archive.
Read more in the Orcadian Scriever news release.
12 July 2021
Library publishes commissions by fresh literary talent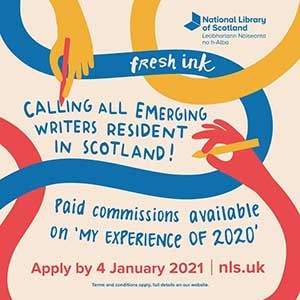 Original works by 10 emerging writers have been added to the National Library's collections.
Fresh Ink, a Library initiative seeking new literary talent and diverse, contemporary voices in Scotland, launched in December. As part of its commitment to capturing the nation's memory, the Library asked applicants to pitch a literary response to the theme 'my experience of 2020' in their chosen genre or form.
From the 250 writers that submitted a pitch, a panel selected 10 to receive a bursary of £1000 in exchange for their work.
The selected commissions have been described as a 'series of brilliant evocations of living through a time of unique change' that 'illuminate, challenge, comfort, and intrigue'. They include fiction, non-fiction, poetry, a play and a comic.
Writer Nadine Aisha Jassat, who led the initiative, will be in conversation with the writers in an online event on Thursday 15 July.
All 10 Fresh Ink commissions are available online.
12 July 2021