Subscribe to our free email newsletter
Our Edinburgh reading rooms and Glasgow premises will reopen for limited service on Tuesday 27 April. See our reopening page for more information.
---
Applications now open for Chief Executive post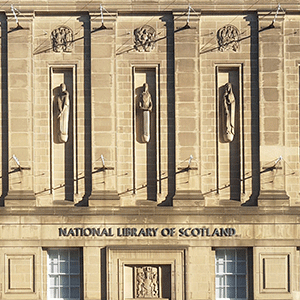 Applications for the role of Chief Executive of the National Library are now open.
Candidates for the role should ideally bring a track record of leadership in a similarly large and complex organisation. They will be a strategic leader and inspiring people manager.
The post-holder will ideally bring experience of managing cultural assets or information services, understand how the use of digital technology can deliver strategic change and be a natural collaborator and partnership builder.
More information is available on the Saxton Bampfylde website.
22 April 2021
Anti-slavery activists in focus in Library learning resource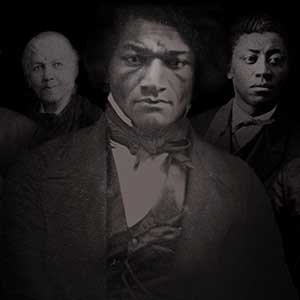 A new learning resource on African American freedom-fighters in the 19th century is now available online.
'Struggles for Liberty: African American Revolutionaries in the Atlantic World' explores the lifelong fight for social justice by anti-slavery activists, some of whom campaigned in Britain and Ireland.
Launched by the National Library of Scotland, the resource shares the stories of African American revolutionaries like Frederick Douglass, Moses Roper and Ida B. Wells-Barnett, through their own words and writing. It also features interactive maps and downloadable learning activities for history teachers, including activities mapped to the Curriculum for Excellence.
Drawing on the Library's collections and on material in archives in the US, 'Struggles for Liberty' complements the National Library's previous work on historical anti-slavery activism. In 2018, a display entitled 'Strike for freedom' highlighted Frederick Douglass's life and accomplishments. Visitors discovered that he and other activists travelled through Scotland campaigning for social justice and the end to slavery.
The new resource was created in collaboration with Dr Walter O Evans and the Arts and Humanities Research Council-funded University of Edinburgh project, 'Our Bondage Our Freedom'.
Read more in the 'Struggles for Liberty' news release
See also 'Scotland and the slave trade'
25 March 2021
National Librarian announces retirement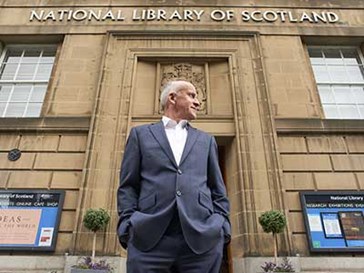 National Librarian Dr John Scally
Dr John Scally, National Librarian and Chief Executive at the National Library of Scotland, has announced he will retire in October.
Dr Scally has been National Librarian for the past seven years.
During this time, he launched the Library's Data Foundry, oversaw the redevelopment of the Library's Causewayside building in Edinburgh, and the establishment of the Library's state-of-the-art facility, home to the Moving Image Archive, at Kelvin Hall in Glasgow. Online visitors to the Library website have doubled since 2014, while visitors to exhibitions and events at the Library's George IV Bridge building have increased to more than 100,000 a year.
Dr Scally has also been involved in the acquisition of a number of noteworthy collections, including the Ian Rankin literary archive, the MacKinnon photograph collection, and Scotland's first printed work, the Aberdeen Breviary (1509).
Last year he launched the Library's five-year strategy 'Reaching people', which commits the organisation to engaging with its audiences in new ways.
Read more in the Dr John Scally media release
27 January 2021
Doors open on Ian Rankin archive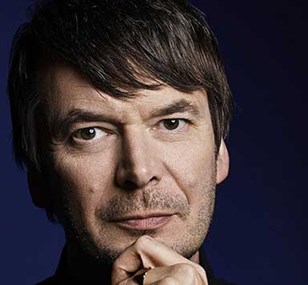 From Friday 18 December, the archive of award-winning Scottish author Ian Rankin will be available for consultation.
Donated to the National Library of Scotland in 2019, the archive contains almost 390 files and manuscripts. It presents what UK's biggest-selling crime author describes as 'a pretty complete author's life, late-20th century-style'.
Items include correspondence with literary figures, and, not surprisingly, police officers.
As well as donating the material, Rankin made a substantial contribution to the creation of a post to catalogue the collection. He and Curator Rosemary Hall will discuss the archive in an exclusive online Library event on Thursday 17 December.
Library members can consult the archive by booking a place in the Special Collections Reading Room.
Read more in the Rankin archive news release.
15 December 2020
Opportunity for emerging writers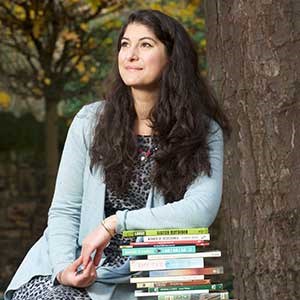 'Fresh Ink' is a new National Library of Scotland initiative to support and develop emerging literary talent.
Led by poet, writer and creative practitioner Nadine Aisha Jassat, the initiative is calling on applicants to pitch their proposed response to the theme 'my experience of 2020'.
A panel will award up to 10 emerging writers a bursary of £1000 in exchange for their work. Commissioned pieces will be added to the national collections.
The Library is particularly keen to hear from LGBTQ+ and BAME writers, women, writers from all socio-economic backgrounds and writers with disabilities. Applicants must be aged 18 and over and resident in Scotland. Applications close on 4 January 2021.
See the Fresh Ink initiative page for further important dates and information on how to apply.
Read more in the Fresh Ink news release
2 December 2020
Digitised reels revive oldest surviving moving images of Wick
The National Library of Scotland has restored and digitised the oldest surviving moving images of Wick.
Donated by the Wick Society, the footage reached the Library in the form of five Kinora reels. The Kinora is a moving image device developed around 1895. It allows people to view reels composed of small cards printed with individual frames of film.
Clips from the 'Wick Kinora Reels' are available to view online in the Library's Moving Image Archive catalogue. The footage reveals scenes from Wick at the turn of the 20th century, including fishermen at work, Wick Bay, ships and tugboats at Wick Harbour, and a church parade.
The Library will store and preserve the original reels within the Moving Image Archive at Kelvin Hall in Glasgow.
Read more in the 'Wick Kinora Reels' news release
27 November 2020
Liston Turkish journals published for the first time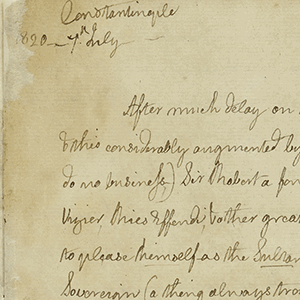 The early 19th century Turkish journals of Scottish diarist and traveller Henrietta Liston are now available to read online.
Liston lived in Constantinople with her husband Robert, British Ambassador to the Ottoman Empire, from 1812-1820. During this time, she kept journals recording of her experiences in the Ottoman Empire.
The National Library of Scotland's website 'The travels of Henrietta Liston', which already features Liston's North American travel journals, has been expanded to include her Turkish writings.
Among the supplementary material on the website are long reads, such as essays and a short story, written by contributors in response to the journals. An interactive map offers a visual representation of some of Liston's journeys, with links to journal entries relating to specific places she visited.
The Turkish journals will be published in print for the first time in the book 'Henrietta Liston's Travels: The Turkish Journals 1812-1820'. Published by Edinburgh University Press, it is co-edited by the Library's Curator of US and Commonwealth Collections, Dora Petherbridge.
Read more in the Henrietta Liston news release
2 November 2020