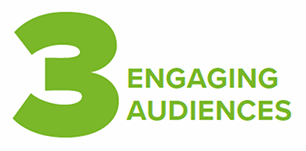 A family visit to the National Library at Kelvin Hall
3. We put audiences at the heart of everything we do and offer a rich variety of ways for people to participate and engage with their heritage.
3.1  We will take an audience-led approach to the development and delivery of all the Library's services and cultural experiences.
3.2  We will employ the latest technologies and expert staff to transform our public spaces into inspiring and welcoming destinations for research, discovery, lifelong learning and entertainment
3.3  We will engage communities throughout Scotland with the collections – through touring exhibitions, targeted learning and outreach activities, and innovative online content.
3.4  We will create new programmes and services to reach wider and more diverse audiences and to help support communities around Scotland to thrive.
---
Priority in focus
New exhibitions and content
We're delighted to announce some new offerings that are scheduled to take place in the coming months.
We will launch 'Struggles for Liberty: African American Revolutionaries in the Atlantic World' – a new online learning resource including materials for teachers, which tells stories of the individual and collective fight for social justice by Frederick Douglass and other enslaved and free Black women, children, and men living in the Atlantic world in the 19th century.
Douglass, who lived in slavery for the first two decades of his life, became one of the most renowned social justice campaigners, authors, activists, and philosophers in world history. The 'History of Black Abolition', section of the resource also looks at the activism of inspirational freedom-fighters, Nathaniel Turner, David Walker, and Maria W Stewart.
Here, stories from slavery are told through books, letters, photographs, and documents held in the National Library, the Walter O and Linda Evans Foundation Frederick Douglass Collection, and across international library holdings.
We are working on two new exhibitions at our George IV Bridge building in Edinburgh. The major exhibition 'Petticoats and Pinnacles will explore the relationship between women and mountains, focusing on the Scots who travelled, climbed and responded creatively to mountain environments, both in Scotland and across the globe. Through their stories, the exhibition will demonstrate the ways in which these women overcame ideals of femininity, masculinity and social convention to pursue their own goals and ambitions.
The characters range in date from the young Scottish lady who climbed Ben Lomond in 1760 (and was home in time for tea without appearing tired) to the first all-female expedition to the Himalayas in 1955, with a supporting cast up to the modern day. Better known women, such as Nan Shepherd and Isabella Bird, will sit alongside less familiar names such as Evelyn McNicol, Una Cameron, Maria Ogilvie Gordon, Jane Inglis Clark and Jane Ellen Duncan.
Our Collections in Focus display, 'The Eye of a Stranger: Henrietta Liston's Travels', explores the writing of Henrietta Liston, botanist and diarist, who sailed to the heart of the Ottoman Empire in 1812. Henrietta's husband, the Scottish diplomat Robert Liston, had been called out of retirement and reappointed British Ambassador to the Sublime Porte at Constantinople (Istanbul). Henrietta kept travel journals and wrote letters which, preserved in the Liston Papers at the National Library, offer a unique vision of Turkey in the early 19th century.
This year marks the 200th anniversary of the Listons' final departure from the Ottoman Empire. This year also sees Bilkent University, Ankara and the National Library's collaborative venture make Liston's significant, yet never-before-published, writings on Turkey available for the first time in print. Published by Edinburgh University Press, 'Henrietta Liston's Travels: The Turkish Journals 1812–1820' is accompanied by our online resource offering a digitised collection of her manuscript journals from both her Turkish residency and her earlier time in the United States.
Supporting learning, research and discovery