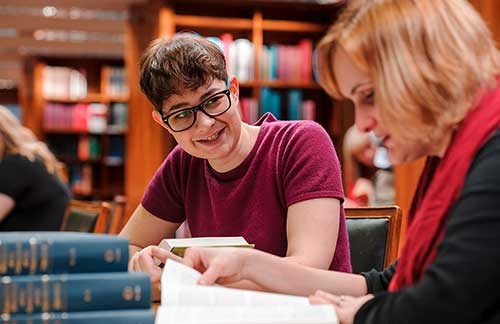 Researching the collections in the General Reading Room
4.  We encourage and support research, learning and discovery.
4.1  We will support the contribution of new knowledge to the world by developing research collaborations and research fellowships.
4.2  We will encourage investigations of the collections from different angles, uncovering untold stories and giving fresh perspectives on society and culture, including key areas of public debate such as climate change and misinformation.
4.3  We will develop our digital scholarship service by presenting the collections as data, opening up new possibilities for research, learning and creativity.
4.4  We will provide people with access to learning through our collections in support of the curriculum, lifelong learning, creative practice and continuous professional development.
---
Priority in focus
Membership of professional networks
Just before the publication of this new strategy, we were delighted to learn that our application to join CENL was accepted by the membership.
CENL (The Conference of European National Librarians) is a network of 48 national libraries in 45 European countries. CENL works to advance the cause of Europe's national libraries, reinforcing our role in preserving the continent's cultural heritage and making it accessible to all.
At the National Library of Scotland, we have had a long-held ambition to be part of CENL, and we very much look forward to working with our national library colleagues from other leading European memory institutions to advance our collective mission.
Digital scholarship
Digital scholarship is a broad term encompassing the use of computational or digital methods to enable new forms of research, learning, teaching or creative outputs. This is why we are making our collections available in machine-readable form – as data — to support and encourage these new uses of the collections.
Dr Giles Bergel has been appointed as the first National Librarian's Research Fellow in Digital Scholarship. The fellowship is a three-month period of research into of any aspect of the Library's data collections available on the Data Foundry, using data science or other digital research methods or techniques.
Bergel is a digital humanist, based in the Department of Engineering Science at the University of Oxford. He has a long-standing interest in the digitisation of cheap print, and is the editor of an edition of broadside and chapbook versions of the English ballad 'The Wandering Jew's Chronicle'. His other interests include bibliography, typography and book design, as well as the histories of copyright and the British book trades.
The Library has extensive holdings of chapbooks — small, cheap books sold by travelling pedlars, or 'chapmen', containing songs, poems, stories, prophecies and jokes. The Chapbooks Printed in Scotland dataset on the Data Foundry contains images, text and catalogue records of more than 3000 of the Library's holdings printed between circa 1700-1899.
Bergel's project will apply state-of-the-art computer vision methods to match and classify similar images, distinguishing blocks from their copies and grouping them by subject, date, printer and place of publication, leveraging decades of scholarship at the Library. The project will uncover relationships between members of the trade who copied, inherited or shared printing blocks across often considerable distances. It will make it possible to view chapbook illustrations in detail, and as a whole — as a unique collection of imagery that the printing press made available to countless people in Scotland and beyond.
The Library's Artist-in-Residence, Martin Disley, completed his residency this summer after nine months with us. Funded by the Creative Informatics AHRC project, Martin explored the use of Generative Adversarial Networks (GAN) — a form of machine learning — with the collections, to create new artworks based on the Library's digitised material.
The aim for this project was to explore how, and whether, it is possible to convey the key features of digitised cultural heritage collections using artificial intelligence and, in turn, if these methods and outputs can be used to create new works of art.
Martin's work has since been shortlisted for a John Byrne Award.