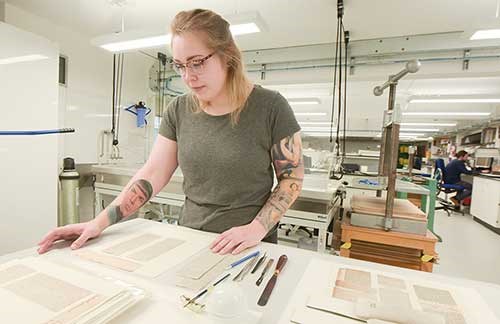 One of our interns working in the Conservation Studio
5. We will continue to be a great organisation to work for and with, developing new ways of doing, delivering and partnering.
5.1  People — We will support, develop and train our staff and recruit new talent to enhance our existing skills and knowledge.
5.2  Sustainability — We will continue our leadership role in environmental sustainability, developing a fuller understanding of our impact on the environment. We will reduce, monitor and reduce further the environmental footprint of all areas of our operation.
5.3  Estates — We will ensure our property assets are maintained and improved and collections are held securely in appropriate environments by implementing our Property Asset Management Plan.
5.4  Data — We will use data to help the Library optimise its services and business processes.
5.5  Finance — We will derive 'best value' from our current core income sources, develop diverse income streams and clearly communicate the value of the Library to external funders to attract additional income.
5.6  Partnerships — We will grow our partnership activity both nationally and internationally with the aim of introducing new ways of working, reaching new audiences and supporting Scotland's vibrant cultural sector, especially libraries and archives.
---
Priority in focus
Helping young people into employment
In September 2020, the final cohort of interns joined the Library, and they will be with us for the next six months. These internships will not only help the Library progress with some of our strategic priorities as part of 'Reaching People', but will also provide these young people or recent graduates with the paid experience they need to get that next job.
Interns will be working with us in the following areas:
Access and Outreach
Climate Crisis
Data Rights and Personalisation
Equalities, Diversity and Inclusion
Creating Media Content
Gaelic Translation.
Reducing our impact on the environment
As we work towards meeting the Government's ambition of becoming carbon-neutral by 2040, we have achieved considerable success in reducing our carbon footprint and are now exploring the latest low-carbon technologies on the market to help us meet these aims in our buildings and across our estate.
We're looking at air source heat pumps (ASHP) and ground source heat pump (GSHP) technology to reduce our reliance on gas and move towards electricity as the main source of heating in our buildings. We're also looking at decarbonising our transport fleet through the use of fully electric or hybrid electric vehicles. This means that when we're transporting collections items between buildings — including Causewayside and George IV Bridge in Edinburgh, and Kelvin Hall in Glasgow — it will be achieved with minimum impact on the environment.
We're making good progress. Since 2008/09, we have reduced our greenhouse gas emissions by 69 per cent, and reduced our energy consumption by 50 per cent. Our efforts have been recognised. We were delighted to take home two awards at the UK National Premises and Facilities Management Awards 2019. As well as being shortlisted for the Energy Management Award, we scooped the 'Partnership in Smart Facilities Management' award (with Craigalan Controls) which also won the overall winners award.