16 December update: We are delighted to share the news that the appeal to secure these precious manuscripts for the nation has been successful. Further information is available in the appeal news story. We are eminently grateful to the hundreds of individual supporters who supported the campaign and look forward to sharing further updates.
In October 2021, the National Library of Scotland launched an appeal to repatriate some of Scotland's most important literary manuscripts.
The Honresfield Library is a tremendous collection almost entirely inaccessible since the 1930s. Its appearance on the open market attracted the interest of a community of libraries, archives, and cultural heritage institutions across the UK. We launched a campaign to prevent this unparalleled collection of literary treasures being broken up, going overseas or going back into private hands.
Among the 500 manuscripts in this collection are items of great significance to Scotland. Robert Burns's handwritten letters to his family, lovers and patrons sit alongside discussions of his work penned by Byron, and novel fragments and travel journals written by Sir Walter Scott.
Two star items bring the importance of this collection to Scotland into sharp focus.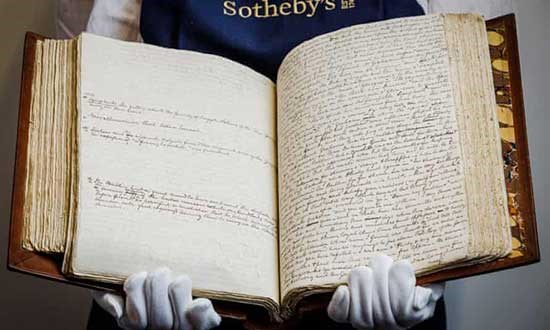 The complete working manuscript of Walter Scott's
novel 'Rob Roy'. Image courtesy of Sotheby's.
The first, a 'Commonplace Book' compiled by Robert Burns between 1783-85 — when the Bard was yet to publish his work or achieve fame — contains his earliest surviving poems, notes and ideas.
The second is the working manuscript of the great novel 'Rob Roy'. Written in Sir Walter Scott's own hand, it is the only manuscript novel of his to remain in private hands.
These are lynchpins of Scottish literature, yet were at risk of being separated, dispersed and lost from public ownership.
An opportunity to safeguard the collection
Having been privately owned since the late 19th century, these manuscripts were being sold at auction. As a member of a special consortium coordinated by the Friends of the National Libraries, we successfully delayed the auction. £15 million was needed to save this material for the nation. The value of the 40 'Scottish items' in the collection is £2.75 million.
We could not let items of such cultural and historical value go abroad or into private hands. They should, and must, be added to the national, public collection.
The National Library of Scotland worked with the other Scottish members of the consortium — Abbotsford and the National Trust for Scotland — to raise the money needed to bring these giants of Scottish literature home.
Donors
We are grateful to the Friends of the National Libraries who coordinated the Honresfield campaign, and to the lead donors to this national campaign, Sir Leonard Blavatnik and the National Heritage Memorial Fund.
The following generously donated to the National Library of Scotland's 'Bring the Bards Home' campaign. We extend sincere thanks to you all, and to the donors who prefer to remain anonymous.
The Foyle Foundation
The Scottish Government
The Anderson Family
A J Baker of Comrie
Francis Barnes
Dr Alan M Beattie
Robin Bell WS
Richard Burns
The Burns Howff Club, Dumfries
Lady Mary Callander
Robert D Campbell
Peter Clayton
Lady Coulsfield
Sir Sandy and Lady Crombie
Leith Davis, Director, Centre for Scottish Studies, Simon Fraser University
Lynne Devine
Liam Devlin, Rothesay Herald
Michael and Helen Dick
Dr Neil K Dickson
Mrs Mary Drysdale
Owen Dudley Edwards
Margaret Duffy and Peter Williamson
Morrison Dunbar CBE
Dunfermline United Burns Club
Helen Durndell
Elizabeth Ewan
The Elizabeth Soutar Charitable Trust
First Scottish
Moira Gemmell
Mr John Gibson
Hugh Grant
Ian Hamilton, Portknockie
David and Angela Hewitt
Carol Howarth
Jean Armour Burns Trust
Lord and Lady Kingarth
Dr William A Kelly
Kuenssberg Charitable Foundation
Peter J Luke (of Shawfair)
Mrs Morag MacCormick
Lady Lucinda Mackay
Norman McFadyen CBE
Lord McGhie
Frank McGrail, Edinburgh
Professor Maureen Meikle
Ian W Moffett
Julian Munby FSA
Lord and Lady Nickson
Dr Henry Noltie
Sir Bruce Pattullo CBE
Professor Murray Pittock
Charles and Ruth Plowden
Dr John Purser
Janet Rae
Ian Rankin
Ian Ritchie CBE FREng FRSE
Dr James Robertson
Maggie Rough
Norman F Shead
Andrew Short
Mary Frances Smart
Commander J A Smith, Royal Navy (Rtd)
Norah Smith
David Stewart
Peter Syme
Tasos Symeonides
Alistair and Rosie Thompson
Claire and Mark Urquhart
Mrs Jane Watkinson
Professor Charles W J Withers and Mrs Anne M Withers
Dr Ronnie Young, University of Glasgow
Additional