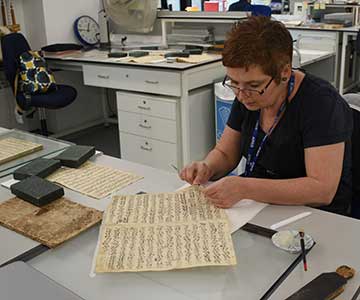 A Library Conservator carries out repair work
on one of the Library's music manuscripts.
'We will be the guardian of the published and recorded memory of Scotland for current and future generations.'
[2015-2020 strategy]
The painstaking work of the Library's Conservation Unit is a critical part of our mission to safeguard and restore our collections for the people of Scotland.
Our specialist conservators recently undertook major repairs on 20 volumes of the Library's music manuscripts. The collection includes:
Fragile hand-written works dating back to the first half of the 18th century
Musical farces
Operatic arias
Bagpipe marches
Personal pocket books of well-to-do Scottish families.
A private donation enabled the items to be painstakingly surface cleaned, the paper mended, and new spines to be attached and bound.
Taking such a careful approach with Scotland's most precious heritage items is essential if we are to safeguard them for the future.
A notable acquisition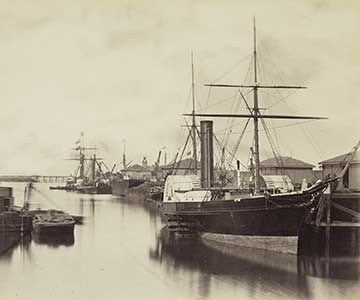 Ships in Granton Harbour, near Edinburgh from
the Mackinnon collection of photographs.
Each year we strive to bring culturally and historically significant materials into the National Library of Scotland's collections.
A recent notable example was the acquisition of the MacKinnon Collection of 14,000 images spanning 100 years of Scottish life.
From rare albumen prints of the Newhaven Fishwives to photographs of Scottish Regiments in the Crimean War, to posed commercial family portraits, the photographs give a stunning impression of how day-today life has changed since the earliest days of photography.
The collection was acquired for the nation as a result of a special collaboration between the National Library of Scotland and the National Galleries of Scotland. Its purchase was supported by the Heritage Lottery Fund and the Art Fund.
Additional