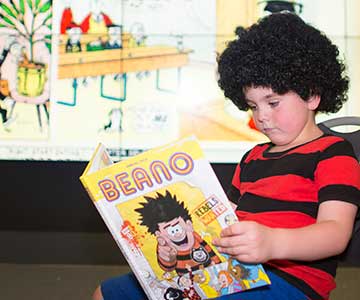 A boy dressed as Beano character Dennis the Menace
reading 'The Beano' at a Kelvin Hall event.
'We will design and deliver public engagement programmes that will educate, entertain and inspire the communities of Scotland.' [2015-2020 strategy]
We push our collections and expertise out as far as possible, via innovative workshops, tours and performances. These bring the National Library to life for thousands of new and existing audiences.
Something for everyone
Our recent 'pop-up' events have been very successful in this regard, attracting people from across the country.
We've displayed some rare, iconic and valuable collections items, such as medieval Gaelic manuscripts which have been included in the UNESCO Memory of the World Register.
A display of Mary Queen of Scots' letters, portraits and personal pocketbooks coincided with the release of the blockbuster film about her life.
But, since we are the largest repository of children's books in Scotland, we've also seized the opportunity to engage a young audience. We showed off our first edition copy of 'The Beano' one 'school's out' Saturday at Kelvin Hall; and also hosted a brigade of wizards at a display of rare Harry Potter materials.
Additional