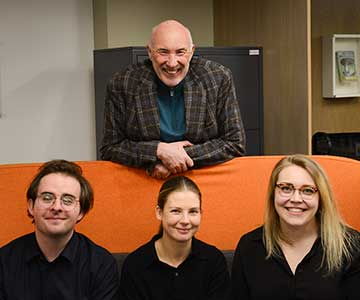 Library supporter Alexander Graham with
  trainees Jarvis, Nicola and Claire.
'We will ensure our collection and services make an important contribution to the education, learning and advancement of our citizens and the success of our nation.' [2015-2020 strategy]
By offering internships and traineeships at the Library, we are able to give young people a unique learning experience at one of the country's most respected institutions. For our part, it is an investment in the future of the libraries and archives.
Helping young people grow
Our ability to host these placements has relied wholly on external funding provided by those who share our vision, such as Alex Graham, creator of the hit TV series 'Who Do You Think You Are?':
'What's really exciting about these traineeships is that they're learning the skills to use state of the art technology to preserve the heritage of Scotland. Their horizons are being expanded and that is quite moving. It's fantastic to be a part of something which is helping young people to grow and develop their skills.'
Jarvis Gray, Alexander Graham Trainee at the Moving Image Archive, says:
'This traineeship has sparked a passion in me for [film] archiving, and I know when I finish I will be one of very few with these skills … there isn't anything else like this out there.'
Claire Hutchinson, Alexander Graham Paper Conservation Intern, says:
'Roles like this as a recently qualified conservator are hard to come by, and so I jumped at this prestigious opportunity. My skills have really improved – I never imagined two years ago that I'd be handling these incredibly rare papers at a national institution.'
Additional