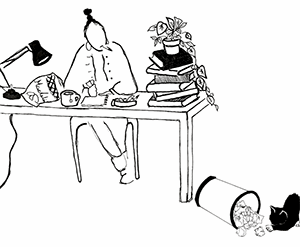 'Writer at desk', by Library Reference
Services Assistant, Amy Kerr
We have launched our Annual Appeal to raise funds for initiatives at the Library supporting new writing.
The enduring value of literature
We have a great belief in the enduring value of writing and literature as an expressive form uniquely able to capture and reflect upon extraordinary periods in history. Its relevance today is no exception.
Scotland has long championed the written word, of new and established writers alike. This is captured in the national collection at the National Library of Scotland.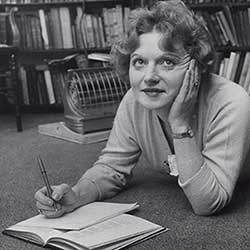 Muriel Spark, lying on the
floor writing in 1957.
© London Evening Standard
In our archives you can see the works of writers on their first forays into literature who are now household names — from Jane Austen, to Ian Rankin via Muriel Spark.
Meanwhile, as a legal deposit library, we are able to collect a copy of every text commercially published today in Scotland, but also the self-published books, pamphlets and zines which may not typically receive the same attention or have the same reach.
Committed to writing
In addition to collecting new writing, we support and spotlight it. Newly published authors are given a stage — physically or virtually — and an audience at our popular public events.
Storytellers are hosted to fire the imagination of our younger audiences. And Library Curators custom-curate selections of archival material to share with visiting aspiring writers.
Now we want to extend our support for new writing at a time when it is particularly important. We must ensure that new writing continues to enrich our lives into the future.
We'll do this by partnering with specialist organisations to host workshops for under-represented writers. Creative writing groups will be welcomed and given special access to archival material. And a special exhibition on pen names will give us the opportunity to generate discussion about writers, writing and the publishing process.
How you can help
New writing needs investment if it is to thrive. Your donation in combination with the Library's experience and expertise can give new writing and writers the support they deserve.
If you are able to support our appeal, please visit our appeal donation page.
Thank you.
Additional