The National Library of Scotland is working in partnership with the Fulbright Commission.
Each year one award is offered to a citizen of the United States of America by the Fulbright Commission to support research in an appropriate discipline at the National Library of Scotland. The appointment is for a period of six months.
Candidates are selected by the Fulbright Commission and the Council for the International Exchange of Scholars. Scholars receive a grant to be used towards related travel and maintenance costs.
Future Fulbright Scholars
The 2020-2021 Fulbright-National Library of Scotland Scholar
Hope Wabuke is a poet, essayist, critic and Assistant Professor of English and Creative Writing at the University of Nebraska-Lincoln.
Hope's creative and critical work concerns itself with the presence and erasure of Africans and Africanist thought in the global African diaspora — the exploration of post-colonial and post post-colonial literature written by Africans, literature written by Africans living in the space of the diaspora rather than on the continent, and literature written by African women.
Hope will be researching Blackness in 15th and 16th century Scotland for her new poetry collection 'Brothers and Sisters', which looks at key sites and moments of Blackness on the African continent in conversation with key sites and moments of Blackness in the African diaspora across time and space to unearth hidden histories of Blackness. The first Black Africans we see in Scotland in 1488 are free and respected members of the community and court; then in 1778, documents tell us that the enslavement of Black Africans was outlawed in Scotland. What happened in these 300 years?
Hope is the author of the poetry collection 'The Body Family', (forthcoming from Haymarket Books in 2022) the memoir 'Please Don't Kill My Black Son Please' (forthcoming from Vintage Books in 2022) and the chapbooks 'her', 'The Leaving', and 'Movement No. 1: Trains'.
Hope also writes literary and cultural criticism for NPR and 'The Los Angeles Review of Books' and has published widely in various magazines. She is Poetry Editor for 'Ruminate Magazine' and a former contributing editor for 'The Root', where she originated a column on African diasporic literature. Hope has received fellowships and awards from the National Endowment for the Arts, the National Book Critics Circle, 'The New York Times' Foundation, the Barbara Deming Memorial Fund for Women Writers, Cave Canem, the Awesome Foundation, Yale University's THREAD Writer's Program, The Poetry Foundation, and the Voices of Our Nations Arts Foundation (VONA).
The 2019-2020 Fulbright-National Library of Scotland Scholar
Dana Van Kooy is Associate Professor of Transnational Literature, Literary Theory and Culture in the Humanities Department at Michigan Technological University.
Dana's research interests include 18th and 19th-century British and American literature, Romantic-period drama, and circum-Atlantic studies.
Her current book project is 'Atlantic Configurations and the Aesthetics of Disappearance'. This project traces the cultural construction and circulation of specific configurations throughout the Atlantic World during this period of European colonial empires and plantation slavery. One of the purposes of this work is to explore the emergence of modern sensibilities about the relationships between land and people. A particular area of interest relates to the represented conditions of freedom and its loss.
She is also concerned with Scottish writers including Henrietta Liston and James Grainger and the mapmaker, James Robertson. Each of these people travelled to the West Indies, offering personal commentary and literary depictions of Caribbean society, plantations, and colonial geography.
Dana's publications include 'Shelley's Radical Stages: Performance and Cultural Memory in the Post-Napoleonic Era' (Routledge 2016). She has also written articles published in 'Studies in Romanticism', 'Theatre Journal, and 'The Keats-Shelley Review'.
The 2018-2019 Fulbright-National Library of Scotland Scholar
Dr Gregory Baldi is Associate Professor of Political Science at Western Illinois University.
Greg's research focuses on the development of political and social institutions in Western Europe especially the United Kingdom and Germany. His interest in Britain was sparked by a variety of sources, including a youthful exposure to Elizabethan literature, Victorian history, and the first Clash album.
His previous publications include articles in 'The British Journal of Politics and International Relations', 'West European Politics', and 'German Politics and Society'.
His dissertation 'The Politics of Differentiation: Education Reform in Postwar Britain and Germany' was co-winner of the 2011 Ernest Haas award for best dissertation in European politics from the American Political Science Association.
Greg will be working with Library collections on a project examining the history of the Scottish National Party.
He will also be involved in outreach activities including a public lecture in November on German-US-UK relations at the time of the fall of the Berlin Wall.
The 2016-2017 Fulbright-National Library of Scotland Scholar
Dr Juliet Shields is an Associate Professor in the Department of English at the University of Washington in Seattle.
Juliet specialises in 18th- and 19th-century British and American literature, the history of the novel, transatlanticism, women's writing, and diaspora studies.
Juliet is working on a book tentatively titled 'The romance of everyday life: Scottish women's writing, 1815-1939'.
Her research on 19th-century Scottish literature has revealed an overlooked literary tradition of realistic counter-representations in works by women writers — from stories of mundane domestic life in villages where nothing ever happens to accounts of grinding poverty in Glasgow's slums.
These women's works provide a corrective to a literary and historical perspective that associates Scotland with romance and emotion, and England with realism and reason.
Juliet's previous publications include:
'Nation and migration: The making of British Atlantic literature, 1765-1835' (Oxford University Press, 2016)
'Sentimental literature and Anglo-Scottish identity, 1745-1820' (Cambridge University Press, 2010).
Watch Juliet's Gresham College lecture
The 2015-2016 Fulbright-National Library of Scotland Scholar
Dr Kirk McAuley is an Associate Professor in the Department of English at Washington State University at Pullman. Kirk is currently working on a book, tentatively titled 'Invasive species: The economy and ecology of British empire writing', which aims to increase our understanding of the historical legacy of contemporary ecological crises.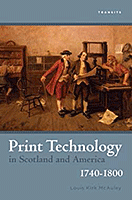 Kirk's research is particularly concerned with texts composed by Scottish authors residing in the Caribbean, Africa, and the south Pacific.
His first book, 'Print technology in Scotland and America' (Bucknell University Press, 2013), investigates the mediation of popular-political culture in Scotland and America, from the transatlantic religious revivals known as the 'Great Awakening' to the United States presidential election of 1800.