The National Library of Scotland is working in partnership with the Fulbright Commission.
Each year one award is offered to a citizen of the United States of America by the Fulbright Commission to support research in an appropriate discipline at the National Library of Scotland. The appointment is for a period of six months.
Candidates are selected by the Fulbright Commission and the Council for the International Exchange of Scholars. Scholars receive a grant to be used towards related travel and maintenance costs.
The 2022-2023 Fulbright-National Library of Scotland Scholar
Paul Daniel Marriott is an Associate Professor of landscape architecture in the Stuckeman School at Penn State University.
Titled "Image, Infrastructure and the Scottish Landscape", Dan's project looks at the relationship between travel and technology in the Scottish Highlands during the 18th to 20th centuries.
Focusing on the quality and design of public roads, Dan will work closely with collections at the National Library of Scotland. Of particular interest are the Newman Collection of 17th to 19th century travel journals and maps, and the Bartholomew Archive of 18th to 20th century maps and automobile tourism. 
Dan previously carried out research at the National Library of Scotland for his doctorate in landscape architecture at the University of Edinburgh. His doctorate research examined the influence of British design on pleasure roads in the United States. While researching at the Library, he focused on Scottish civil engineering and the Picturesque Movement in the Highlands.
The 2021-2022 Fulbright-National Library of Scotland Scholar
Jeremy Bearer-Friend is Associate Professor of Law at George Washington University Law School.

Jeremy views tax paying as a civic act that shapes a citizen's relationship to government.
He has published on:
The use of administrative discretion to shape the civic features of tax paying;
The potential of elective in-kind contributions to government in lieu of cash taxes;
The omission of race and ethnicity from tax data.
His recommendation to disaggregate tax data by race was included in United States President Joe Biden's Executive Order on Advancing Racial Equity. It was issued on the first day of Biden's presidency.
He has been cited by the United States Treasury Department, in testimony before the Senate Finance Committee and the Joint Economic Committee, and by numerous others.
Jeremy's Fulbright research will look at the anti-poll tax movement. It will draw from the National Library of Scotland's unique collection to enrich the transnational understanding of tax filing as a forum for political expression and the use of capitation in tax policy.
The 2019-2020 Fulbright-National Library of Scotland Scholar
Dana Van Kooy is Associate Professor of Transnational Literature, Literary Theory and Culture in the Humanities Department at Michigan Technological University.
Dana's research interests include 18th and 19th-century British and American literature, Romantic-period drama, and circum-Atlantic studies.
Her current book project is 'Atlantic Configurations and the Aesthetics of Disappearance'. This project traces the cultural construction and circulation of specific configurations throughout the Atlantic World during this period of European colonial empires and plantation slavery. One of the purposes of this work is to explore the emergence of modern sensibilities about the relationships between land and people. A particular area of interest relates to the represented conditions of freedom and its loss.
She is also concerned with Scottish writers including Henrietta Liston and James Grainger and the mapmaker, James Robertson. Each of these people travelled to the West Indies, offering personal commentary and literary depictions of Caribbean society, plantations, and colonial geography.
Dana's publications include 'Shelley's Radical Stages: Performance and Cultural Memory in the Post-Napoleonic Era' (Routledge 2016). She has also written articles published in 'Studies in Romanticism', 'Theatre Journal, and 'The Keats-Shelley Review'.
The 2018-2019 Fulbright-National Library of Scotland Scholar
Dr Gregory Baldi is Associate Professor of Political Science at Western Illinois University.
Greg's research focuses on the development of political and social institutions in Western Europe especially the United Kingdom and Germany. His interest in Britain was sparked by a variety of sources, including a youthful exposure to Elizabethan literature, Victorian history, and the first Clash album.
His previous publications include articles in 'The British Journal of Politics and International Relations', 'West European Politics', and 'German Politics and Society'.
His dissertation 'The Politics of Differentiation: Education Reform in Postwar Britain and Germany' was co-winner of the 2011 Ernest Haas award for best dissertation in European politics from the American Political Science Association.
Greg will be working with Library collections on a project examining the history of the Scottish National Party.
He will also be involved in outreach activities including a public lecture in November on German-US-UK relations at the time of the fall of the Berlin Wall.
The 2016-2017 Fulbright-National Library of Scotland Scholar
Dr Juliet Shields is an Associate Professor in the Department of English at the University of Washington in Seattle.
Juliet specialises in 18th- and 19th-century British and American literature, the history of the novel, transatlanticism, women's writing, and diaspora studies.
Juliet is working on a book tentatively titled 'The romance of everyday life: Scottish women's writing, 1815-1939'.
Her research on 19th-century Scottish literature has revealed an overlooked literary tradition of realistic counter-representations in works by women writers — from stories of mundane domestic life in villages where nothing ever happens to accounts of grinding poverty in Glasgow's slums.
These women's works provide a corrective to a literary and historical perspective that associates Scotland with romance and emotion, and England with realism and reason.
Juliet's previous publications include:
'Nation and migration: The making of British Atlantic literature, 1765-1835' (Oxford University Press, 2016)
'Sentimental literature and Anglo-Scottish identity, 1745-1820' (Cambridge University Press, 2010).
Watch Juliet's Gresham College lecture
The 2015-2016 Fulbright-National Library of Scotland Scholar
Dr Kirk McAuley is an Associate Professor in the Department of English at Washington State University at Pullman. Kirk is currently working on a book, tentatively titled 'Invasive species: The economy and ecology of British empire writing', which aims to increase our understanding of the historical legacy of contemporary ecological crises.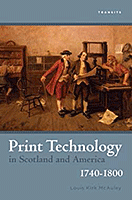 Kirk's research is particularly concerned with texts composed by Scottish authors residing in the Caribbean, Africa, and the south Pacific.
His first book, 'Print technology in Scotland and America' (Bucknell University Press, 2013), investigates the mediation of popular-political culture in Scotland and America, from the transatlantic religious revivals known as the 'Great Awakening' to the United States presidential election of 1800.