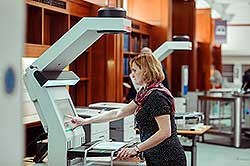 Self-service copying in the Issue Hall.
We provide self-service scanning and photocopying from general collection items and print-outs from microforms.
You can save scanned images (in colour) to memory stick or print A3 or A4 to black and white printers. 
Print-outs from microform can be printed A3 and A4 to black and white printers.
For conservation reasons, all items must be examined by staff at the Enquiry Desk before being copied. In those instances where damage may occur, our specialist Reprographic Services may be able to provide alternative copying services.
Please observe the copyright guidance provided on notice boards beside the scanner / copiers.
Self-service copying charges
Prices from 15 June 2021.
Colour scan to memory stick  — £0.20 per scan
A4 / A3 black and white copy — £0.20 per page.
Self-service microform printing:
A4 / A3 black and white print — £0.20 per page.
Payment
Add cash credit to your library card using the top-up kiosk. You can then use your library card to print, scan and copy.