Gaelic manuscripts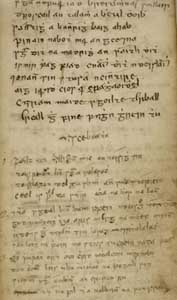 Entitled 'Uiscebeatha' ('Whisky'), this poem was written by William MacMurchy (circa 1700-1778), a schoolmaster in Kintyre.
MacMurchy was also active as a poet, piper, harper, tailor, weaver, and collector of Gaelic poems. He compiled several miscellanies of poetry.
Jacobite poetry, humour and satire
The small volume shown here contains some of his own works, as well as those of other poets. It is a mixture of praise poetry, elegies, Jacobite poetry and humourous and occasional poems, and shows him engaged in satirical exchanges with other poets.
MacMurchy's grandson sold the volume to the Highland Society of Scotland in 1808, and it was later given to the National Library of Scotland.
National Library of Scotland reference number: Adv.MS.72.2.15.