Since 1953 the Library has been the repository for the records of the Church of Scotland's Board of World Mission.
This major and much-used archive has global coverage.
It gathers most of the surviving records of the constituent foreign mission organisations of all the Presbyterian churches that have been united since 1929 within the present Church of Scotland.
Churchmen and organisations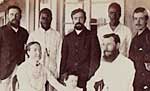 Around this major deposit we have acquired a considerable number of archive collections of 20th-century churchmen and church-based organisations — for example, the papers of the biblical scholars George Adam Smith and William Barclay, and the records of Dr Graham's Homes, Kalimpong, India.
These modern collections follow on chronologically from many papers of leading 18th- and 19th-century figures like Robert Wodrow and John Lee, both of whom were also active ecclesiastical historians.
David Livingstone papers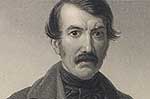 David Livingstone.
The Library is also a major centre for David Livingstone studies, with a large collection of letters, journals, maps and other papers of Livingstone, and papers of several friends and associates in his African missions and explorations.