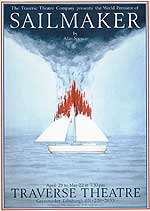 A poster from the
Traverse Theatre
archive.
The great modern renaissance of Scottish cultural activities is reflected in large deposits of their organisational archives from:
The Saltire Society
The Scottish Arts Council
The Edinburgh International Festival Society
The Edinburgh International Film Festival.
In addition to personal papers of playwrights and actors, for example those of Robert Kemp, Robert MacLellan, Sydney Goodsir Smith, O H Mavor ('James Bridie'), Alistair Sim and Douglas Young, very significant accessions of theatre archives have been received.
In particular we hold large (and continuing) deposits from the Traverse Theatre, Edinburgh — for long a nursery of new drama — but also from the Gateway and Lyceum theatres, Edinburgh.
The Scottish Theatre Archive at Glasgow University also holds large accessions of Scottish theatre material.