Resources at the National Library of Scotland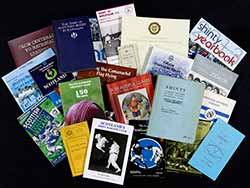 A selection of sport books from
the Library's collections.
You can find a large amount of sports material in the National Library of Scotland's collections, particularly about Scottish sport. Almost every sport you can think of is represented, from athletics to Xingyi Quan, a Chinese martial art.
We request a copy of every sports book and periodical published in the UK and Ireland, through legal deposit.
Our collections also grow through donations and include programmes, biographies, club histories, fanzines, annuals and yearbooks.
In addition, we collect every national and regional newspaper published in Scotland, along with a number of specialist sports newspapers.
You can search for books and periodicals in our sports collections using Library Search. Online material relating to sport is available in our digital resources. You may also like to consult our extensive newspaper collections.
Sport in Scotland
Scots have played a key role in the history and development of many sports. As the home of golf, shinty and the Highland Games, Scotland's influence on sport around the world continues today.
Scotland is a major player in world sport, as the host nation for international competitions such as the Commonwealth Games in 1970, 1986 and 2014, and the Ryder Cup in 2014. We have a comprehensive collection of publications relating to the 2014 Commonwealth Games, which were held in Glasgow.
On this page:
Golf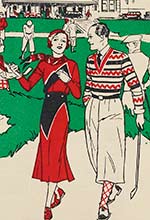 Detail from a Scottish
golfing advertisement.
Scotland is considered the home of golf, and the origins of the modern game can be traced back to the 15th century.
The Old Course at St Andrews is a site of pilgrimage for golfers from around the world. St Andrews is also home to 'The R&A', the organisation which revises and produces the rules of golf alongside the United States Golf Association.
You can find nearly 4,000 books about golf in our collections. These range from magnificent illustrated volumes on the major courses in Scotland, through to stories of local Scottish clubs and worldwide golf tournaments.
Golf collection highlights
Highlights from our modern golf collections, which can be ordered through Library Search, include:
'A history of the Royal & Ancient Golf Club, St Andrews: from 1754-1900', by H S C Everard [Library shelfmark: NF.1202.c.5]
'The life of Tom Morris: With glimpses of St Andrews and its golfing celebrities', by W W Tulloch. [S.162.d.9] View a digital copy on the Internet Archive
'The rules of golf of the ten oldest golf clubs from 1754 to 1848: Together with the rules of the Royal & Ancient Golf Club of St Andrews for the years 1858, 1875, 1888', by Charles B Clapcott [N3.205.3990L]
'A swing through time: Golf in Scotland, 1457-1744', by Olive M Geddes [GNE.2007.2.3]
'True links: An illustrated guide to the glories of the world's 246 links courses', by George Peper [HB5.212.4.167]
'The chronicles of golf, 1457-1857', by Alastair Johnson [

H9.94.230]

'Golf, Scotland's game', by David Hamilton [

HP4.99.405]

.
We also have many rare books about golfing, and hold some of the earliest written records of the sport, including:
Early editions of 'The Goff', Thomas Mathison's 1743 mock-heroic epic poem
Rare 19th century pamplets relating to the establishment of golf clubs throughout Scotland and the rest of the UK.
Our online golf resources include:
Football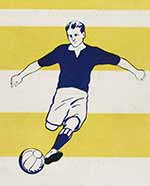 Detail from 'Raith
Rovers', a history
of the football club,
1924.
Football is a national British obsession, which dominates the sport sections of newspapers, along with television and radio sports coverage.
We have thousands of items, covering all aspects of the game both at home and abroad, including:
Match programmes up to the current season
Biographies of football stars of the past and today
The first printing of the rules of the Scottish Football Association, from 1875
Football-related manuscript collections: view a list of our football manuscripts
Football fanzines.
Subjects covered include:
Early development of football in Scotland
Scottish football during the First World War
The Scotland international team.
We actively collect football fanzines and match programmes, and have large collections of both.
All levels of the game are represented, including the Scottish Professional Football League, Highland League and junior football. We also collect material on the rapidly developing women's game. You can use Library Search to find details of our wide range of books and periodicals relating to football. You may also like to refer to our newspaper collections.
Rugby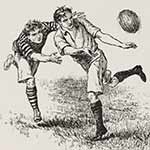 Detail from a book
about Scottish rugby.
Scotland's connection with rugby is long-established. The first ever rugby international match was played at Raeburn Place, Edinburgh, on 27 March 1871 — between England and Scotland. Ever since, what was to become the Calcutta Cup has been a major fixture in the Scottish sporting calendar.
Our extensive rugby collections cover the history and development of the game, including:
The first ever Scottish match in December 1857: Edinburgh University versus Edinburgh Academicals
The 1883 invention of rugby sevens by Ned Haig, a Melrose butcher
The 2014 Rugby World Cup and the Six Nations tournament.
Our collections include:
Biographies of players
Programmes for club and international matches — including youth and women's rugby
Many histories of the game
Rugby manuscript ephemera.
You can order rugby-related books and programmes using Library Search. You may also like to view a list of our rugby manuscripts.
Shinty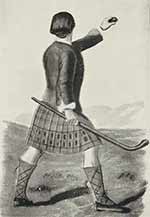 A drawing of a shinty
player from our sport
collections.
Shinty — or in Gaelic, 'camanachd' or 'iomain' — is arguably the most Scottish sport of them all.
A stick-and-ball game played by two teams of 12 players, it has some similarities to hockey and lacrosse. Shinty probably shares a common ancestry with the Irish game of hurling.
Mainly played today in the Highlands, shinty was taken by Highland emigrants to England, Lowland Scotland, Australia, and is even played today in California. It is also played at the Universities of Edinburgh, Glasgow, Aberdeen, St Andrews and Inverness UHI.
A fast-moving and exciting game, its popularity has increased with match broadcasts on BBC ALBA and BBC Two Scotland.
We have many publications on shinty, including team histories and publications of the sport's governing body, the Camanachd Association. The sport is also covered in the sports pages of the many Highland newspapers that we collect.
Read more about materials on shinty in our collection
Cricket and tennis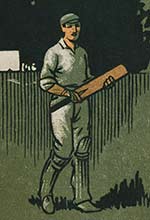 Cover detail of
Clackmannan County
Cricket Club's
'Official handbook',
1925.
Cricket and tennis have long been popular and widely-played in Scotland:
Now a world-famous tennis player, Andy Murray has greatly increased the profile of tennis in Scotland
In 1985, the Fife village of Freuchie won the National Village Cricket Cup against Rowledge at Lords — one of the greatest stories in Scottish sporting history.
We have a strong collection of histories of local Scottish cricket and tennis clubs, which you can look for in Library Search, and we hope to continue to build on this.
Our collections also include cricket-related manuscript items such as photographs, sketches, tickets and diaries. The earliest known Scottish cricket printed item in our collection is the 'Rules of the Fettercairn Cricket Club', from 1865.
Contact us
Email Ian Scott — the Library's Sport, Leisure and Newspapers Curator — with any questions or comments about our sport collections. You can also visit the Library to view sports items from the collections, either as part of a small group or as an individual.
Additional