The 'Academic research' section contains information for:
Academic researchers wishing to collaborate with the National Library of Scotland
Those wishing to apply for National Library of Scotland research fellowships or scholarships.
We will also use these pages to publicise our research seminars and staff research activity.
In this section
A strategic priority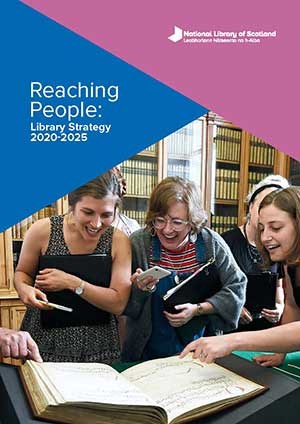 Supporting learning, research and discovery is one of the strategic priorities of the Library's strategy for 2020-2025, 'Reaching people':
We encourage and support research, learning and discovery.
We will support the contribution of new knowledge to the world by developing research collaborations and research fellowships.
We will encourage investigations of the collections from different angles, uncovering untold stories and giving fresh perspectives on society and culture, including key areas of public debate such as climate change and misinformation.
We will develop our digital scholarship service by presenting the collections as data, opening up new possibilities for research, learning and creativity.
We will provide people with access to learning through our collections in support of the curriculum, lifelong learning, creative practice and continuous professional development.
Contact us
For more information about collaborating on academic research with the Library, contact us using our online form. See also our research statement.