With the effects of our changing climate being felt across the world, information on the present crisis and what we can do about it is more important than ever.
In the face of global and existential threats, we can build a sustainable and resilient Scotland together.
This page includes links to events and resources to inspire climate action.
Resources
Stay informed about the latest developments in climate change through recent reports, articles, and e-books. Historical material in the collections can also help further your climate change research.
Images
The 'Preserving Pasts, Imagining Futures' feature on the Google Arts & Culture platform highlights the climate crisis through images in the Library's collections.
Maps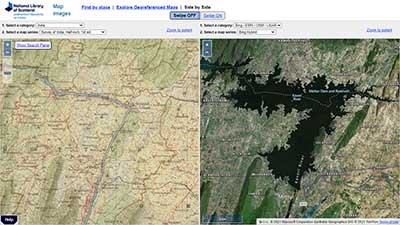 Comparing the Kaveri River in India in
1925 to the present, showing the effects
of the Mettur Dam, constructed
from 1934.
Researching climate change with our maps website shows how the Library's online map collections can be used to illustrate and understand climate change in a wide variety of ways.
Maps provide many insights into historic landscapes and environments. They show different ways of generating power, less polluting lifestyles and means of travel, fossil fuel extraction and consumption, as well as coastal erosion and sea-level rise.
Once georeferenced, so that historic maps can be overlaid on their present-day location, comparison of change over time can be very revealing.
eResources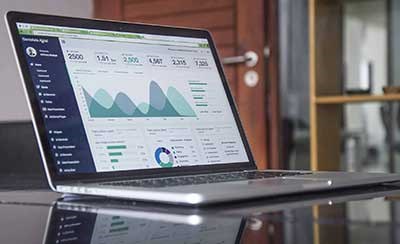 Environmental and science subjects feature in thousands of online resources that the National Library subscribes to.
You can use most of our eResources from home for free if you are a Library member and your main address is in Scotland.
Millions of pages of journals, e-books, reports, reference works, newspapers, and databases are available. 
For instance:
Multidisciplinary resources also include information relating to climate change and the environment:
Reference resources can be a good starting point for your research and finding definitions:
To access the full range of resources, visit us at Kelvin Hall in Glasgow or use our Edinburgh reading rooms.
Knowledge, power & climate justice
In this recorded webinar, guest speakers Zarina Ahmad and Professor Ali Watson will explore the relationship between power and knowledge, and how we can make climate crisis conversations inclusive and justice-focused.
Working with partners
We joined up with a range of organisations in the culture sector to promote the power of the culture sector to help fight the climate emergency.
Our partners are: Creative Scotland, National Galleries of Scotland, Museums Galleries Scotland, Scottish Library and Information Council, Creative Carbon Scotland, and Historic Environment Scotland.
Narrated by Eunice Olumide MBE, this film outlines the distinctive knowledge, skills and resources that culture can bring to climate action.
Climate action at the National Library
Our Climate Action Plan (PDF) (314 KB; 36 pages) outlines our path to becoming a more sustainable organisation. In this plan, which takes us through to 2025, we set out practical steps to help us achieve our goal of becoming net-zero by 2045.