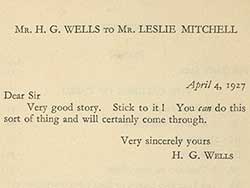 Lewis Grassic Gibbon (1901-1935) is widely regarded as the most important Scottish novelist of the early 20th century.
This reputation stems largely from the series of three books that are collectively known as 'A Scots Quair'.
In that trilogy, Grassic Gibbon produced a classic of not just Scottish literature but of world literature. His Kinraddie ranks alongside Thomas Hardy's Wessex, William Faulkner's Yoknapatawpha County and James Joyce's Dublin as one of the great evocations of place in literature.
Author Hugh MacDiarmid, in his introduction to Ian S Munro's biography 'Leslie Mitchell: Lewis Grassic Gibbon', (1966) says of Gibbon's celebrated trilogy:
'… fiction is now the place that poetry is most likely to be found — and it is certainly to be found in far greater measure in "A Scots Quair" than in the whole corpus of Scots poetry since the 15th and 16th century makars with the exception of the best in Ferguson and Burns.'
'A Scots Quair'
'Below and around where Chris Guthrie lay the June moors whispered and rustled and shook their cloaks, yellow with broom and powdered faintly with purple, that was the heather but not the full passion of its colour yet.'
This sentence from 'Sunset Song' (1932) by Lewis Grassic Gibbon introduces us to the novel's central character, Chris Guthrie. In 'Sunset Song' and its two sequels 'Cloud Howe'(1933) and 'Grey Granite' (1934), which form 'A Scots Quair', we follow Chris Guthrie's life. Her story unfolds from her time as a 15-year-old girl living on a farm in Kinraddie — based on Gibbon's own childhood home, Howe of the Mearns in Aberdeenshire — through marriage, childbirth and widowhood.
Gibbon uses Chris's life to tell the story of the impact of the First World War and industrialisation on rural Scotland.
The books use the rhythms and cadences of the north east Scots language to capture the land and people of Aberdeenshire, and in doing so Gibbon helped create a new tradition of Scottish writing quite distinct from its English counterpart.
About James Leslie Mitchell
The author of this celebrated work was born James Leslie Mitchell on 13 February 1901 in Hillhead of Segget in Auchterless, Aberdeenshire, and died aged 33 on 7 February 1935 in Welwyn Garden City.
A lad o' pairts, he rejected farming life and moved to Aberdeen in 1917 to become a reporter for the 'Aberdeen Daily Journal', while pursuing his interests in history and exploration in his spare time. In 1919 he would briefly join 'Scottish Farmer' in Glasgow as a junior reporter, before enlisting in the Royal Army Service Corps.
Army service would take him to Egypt, Persia and Mesopotamia. In 1920 he enlisted in the RAF which took him to the Middle East and later southern England. He married Rebecca Middleton, known as Ray, in 1925 and they settled in Welwyn Garden City, far away culturally and geographically from the Howe of the Mearns.
On 4 January 1935 Mitchell was operated on at the Queen Victoria Hospital in Welwyn Garden City for a perforated gastric ulcer. Three days later he died, just short of his 34th birthday. He was cremated at Golders Green in London, but his widow took his ashes to Arbuthnott in the Mearns for burial.
First book — and diffusionism
James Leslie Mitchell's first book was 'Hanno: or the future of exploration, an essay in prophecy', published in June 1928.
A non-fiction meditation on exploration, the book drew on diffusionism – an anthropological school of thought that attempted to explain the origin of cultural traits that had fascinated Mitchell for many years.
Mitchell believed that Scotland had been populated by contented primitive hunters who became the Picts, and that the descendants of this tribe could still be identified in the north east of Scotland until the outbreak of the First World War.
Diffusionist ideas influenced many of his books, including 'A Scots Quair'.
Novels and non-fiction works
In 1929 Mitchell would leave the RAF and become a full-time writer. Between 1930 and his death in 1935 he would publish another 15 books.
He published seven novels under the name James Leslie Mitchell, starting with 'Stained Radiance' (1930) which is partly set in Scotland. 'The Thirteenth Disciple' (1931) has autobiographical elements.
His other Mitchell novels are:
'Three Go Back' (1932), which is science fiction
'The Lost Trumpet' (1932)
'Image and Superscription' (1933)
'Spartacus' (1933), which tells the story of the slave revolt in Rome in 73 BC
'Gay Hunter' (1934), a time-travel story.
His non-fiction works are largely about explorers, and include a biography of Mungo Park.
In 1932 he used the pseudonym Lewis Grassic Gibbon for the first time when 'Sunset Song' was published in August. Lewis Grassic Gibbon is a variation of his maternal grandmother's name Lilias Grassick Gibbon.
His final book is 'Nine Against the Unknown', a collection of essays on explorers. It brings together his two identities, as it is co-credited to James Leslie Mitchell and Lewis Grassic Gibbon.
The books Mitchell published under his birth name have inevitably been overshadowed by 'A Scots Quair', but are worth exploring.
'Spartacus' is a fine historical novel, and the books also include fascinating science fiction novels, semi-autobiographical works and books inspired by his travels.
Read the books
'A Scots Quair' has never been out of print and probably never will be, but Mitchell's other books are difficult to get hold of, and his first book 'Hanno' has never been reprinted since its first appearance.
You can now read online all the books published by James Leslie Mitchell / Lewis Grassic Gibbon during his lifetime.
Additional