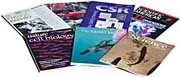 The National Library of Scotland has one of the largest collections of scientific publications in Scotland. The collections are strong in key areas of importance to Scotland.
Our scientific and technical material includes:
Journals
The Library holds over 5,000 current scientific and technical journals, and extensive historical runs of UK journals.
Indexes and abstracts
Many major resources are available in print format. Subjects covered range from agriculture to zoology. If you can't find what you're looking for in Library Search, please contact us.
Electronic resources
Our electronic resources search service provides networked access to online databases via dedicated workstations in our George IV Bridge Building.
Some are also available to use outwith the Library to people who register with us and have a main address in Scotland.
Databases
Several scientific databases are available. The largest of these is Thomson Reuters Web of Science database, which indexes over 12,000 different journals in the fields of science, social science and humanities. Although this is not a full-text database, entries often include abstracts, and you can make searches of cited references.
Our subscription includes:
Ebooks
We have an increasing number of ebooks in our Science and Technology collections.  These are individually catalogued, or you can browse ebooks in eResources. Remote access to these is possible for any registered reader living in Scotland.
For a comprehensive listing of our scientific and technical electronic resources, browse by science in eResources.
Printed books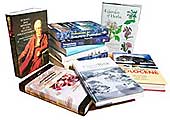 As the Library is entitled to claim a copy of most printed material published in the United Kingdom, from academic texts to popular science and children's books, there is something for everyone.
A wide range of dictionaries, encyclopaedias, directories and handbooks can also be used to find detailed information on scientific and related subjects.
Standards

The Library holds a complete printed set of British Standards.
We also hold superseded standards and registered readers can  access British Standards Online.
As members of the British Standards Institute, we can arrange to borrow some of the more obscure standards.
Most of the material in the science and technology collections is listed in Library Search.
Royal Society of Edinburgh Periodicals Collection
Many of the titles in this collection are not available anywhere else in Britain and are now listed in the main catalogue: please see our RSE Periodicals page for more information.