Community responses to the HIV and AIDS epidemic during the 1980s and beyond.
Until 2 December 2023
When HIV arrived in Edinburgh during the 1980s, communities took action.
The government was slow to act, mystery surrounded infection, and no treatments existed. In the face of this, and the social climate of fear and homophobia, community organisers united.
A charity called Waverley Care was formed. In 1991, Milestone House, a place where people with AIDS could live and die with dignity, opened in Edinburgh. It was the first purpose-built hospice of its kind in the UK.
This display honours those who campaigned, nursed, raised awareness and funds, and those who died and survived. It showcases arts and crafts handmade by residents of Milestone House, leaflets and posters promoting sexual health and fundraising efforts, and newspapers revealing attitudes towards HIV and AIDS.
Learn about the evolution of treatments through examples of medicine packets. Listen to stories of people who lived through the 1980s AIDS crisis. You can share your own thoughts, memories and reflections on this display at the Memory Tree.
Also featuring Princess Diana's signature in the Milestone House visitor book, an example of the high-profile support which followed community work.
This display was curated with Waverley Care, a charity supporting people with HIV and Hepatitis C. Supported by the National Heritage Lottery Fund.
Further reading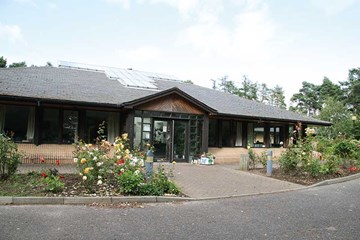 Criz McCormick talks about his work with Waverley Care and Milestone House.
Published in the Library's Discover magazine, Issue 48, summer 2023.
A personal experience of going for an AIDS test in the 1980s.
By Damian Barr
A personal essay from our 'Back to the future' 1980s retrospective.
Being a gay teenager in the late 1980s.
A personal essay from our 'Back to the Future' 1980s retrospective.
Additional