A journey alongside Scots emigrants, who left their homeland in search of a better life. 'The Original Export' exhibition ran from 26 June to 11 October 2009.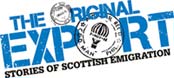 Drawing on personal letters and journals for inspiration, our summer exhibition explores the experience of Scottish emigration over the past 300 years.
Colourful brochures and posters reveal how and why Scots were attracted to seek new lives overseas. Music, song, poetry, film, maps, and artefacts bring our collections to life.
Focusing on the lives of particular individuals, the exhibition looks at four stages in the emigrant experience:
Preparing to go
The majority of Scots abandoned their homeland in exchange for a better life abroad. Many emigrants left to escape from poverty, landlords and taxation.
Land companies, concerned with populating the British colonies, made guides to entice Scots abroad. Government schemes offered cheap fares and land ownership.
Popular destinations included:
The West Indies
North America
Australasia.
These new colonies gave ordinary people the chance to progress in life. Newspapers and journals offered advice about emigration.
Getting there and settling in
In the 19th century, emigration abroad involved sea travel. This was demanding, and often dangerous.
The journey, combined with the new weather conditions and environment, took a lot of emigrants by surprise. Scots wrote long letters home describing their feelings of anxiety and wonder at the whole experience.
For many, arriving in a new country meant clearing, settling and working the land. Many emigrants had little or no farming experience, so they had to rely on each other for help. Communities with a strong sense of Scottish identity developed as a result.
Other emigrants moved to the cities to find work. This tended to offer better employment prospects and higher wages, particularly in the manufacturing and engineering industries. Scots also came into contact with other migrant communities there.
Building communities
Emigrant arrival often led to the eviction of the native population. However, there were some cases of cultural contact and interaction between nationalities.
Although Scots brought their own music and traditions with them, they also learned local customs and took part in different seasonal activities.
Settlers built churches to cement communities and define their religious identities. Scots teachers also made an important impact on educational development in the New World.
Other emigrants looked to 'civilise' the natives through missionary activity. Ministers travelled to the British colonies specifically for this purpose.
Identity and belonging
Scots emigrants made great efforts to preserve their identity through traditional dress, food, music, dance and literature.
Emotional ties to the homeland are often expressed in emigrant literature and music.
Settlers formed social clubs and societies, and celebrated traditional festivals. Some returned to their ancestral home to search for their roots, or to visit family.
Publications of Scottish interest, newspapers, telephone, email and the internet have reinforced emigrant links with Scotland in recent times.

This event was part of Homecoming Scotland 2009 — a year-long programme celebrating Scottish culture and heritage.
The Original Export: Stories of Scottish emigration
Friday 26 June to Sunday 11 October 2009
George IV Bridge Building
Additional