In this free National Library of Scotland exhbition, Ian Rankin looked back on 20 years with his fictional alter ego, Inspector Rebus. The exhibition ran from 24 October 2007 to 13 January 2008.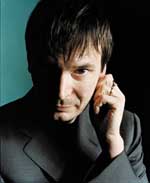 Ian Rankin.
© Rankin
Award-winning Scottish author Ian Rankin has written what is expected to be his final Inspector Rebus novel.
Launched to to accompany the publication of 'Exit Music', this exhibition is a retrospective of the great detective and the murky criminal underbelly of Edinburgh.
'Crime Scene Edinburgh: 20 Years of Rankin and Rebus' is the first exhibition at the National Library of Scotland to honour a contemporary author.
It explores several themes, including:
Ian Rankin's development as a writer and his process of writing
The character arc of John Rebus
The key part that the city of Edinburgh plays in the books
The various factors that have made the Rebus stories such a success
How policing and forensic science have changed over the past two decades.
Visitors also have the chance to put their sleuthing skills to the test with interactive case-solving activities.
The success of Rebus
Inspector Rebus has made Ian Rankin OBE the UK's number one bestselling crime author. Although Rankin has written other books, some of them under an assumed name, it is for Rebus that he is most famous. The books have topped bestseller lists and some have been adapted into a major TV series. The first Rebus novel was 'Knots and Crosses', published in 1987.
The success of the series has also rubbed off on Scotland's capital city. Edinburgh is a central character in many of the stories, not just a backdrop to Rebus's investigations. As a result, ardent fans can now enjoy guided Rebus walking tours of relevant sites.
Ian Rankin at the National Library
In conjunction with the exhibition, Ian Rankin talked about planning the end of the Rebus character in 'The end of the line …' at the Library on Tuesday 27 November.
Edinburgh images © Jackie Freshfield.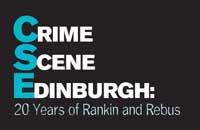 'Crime Scene Edinburgh: 20 Years of Rankin and Rebus'
Wednesday 24 October 2007 to Sunday 13 January 2008
George IV Bridge Building.
Exhibition sponsored by Scottish & Newcastle.