A National Library of Scotland exhibition looking at the changing nature of shops and shopping in Scotland from the 17th to the 20th centuries. Ran from December 2005 to February 2006.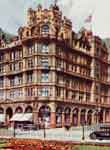 From the markets of the Middle Ages to the self-service supermarkets of the 1950s, the Scots' experience of shopping has been transformed across the centuries.
A glimpse of the development of shopping over 300 years was provided by the National Library of Scotland's free exhibition, 'Sale of the Centuries'.
Scots and shopping
Open from 8 December to 12 February, this celebration of shopping in Scotland gave a flavour of how Scots shopped before 'malls' and online ordering came to dominate.
Material on display from the Library's collections revealed, for instance:
Why the Earl of Angus, who lived in Glasgow, brought his bread in Edinburgh in 1608.
The shopping 'trail' of 18th-century Edinburgh housekeeper Mrs Dudgeon.
A schoolboy's drawings of shops and streets in the Lanarkshire village of Newarthill in the early 1900s.
Expeditions to department stores in the 1920s and '30s by a university lecturer.
What it was like to 'go the messages' in Hawick in the 1950s.
Connery exhibit on loan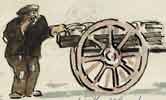 Exhibits on loan from other organisations included a staff record slip showing employment details for an Edinburgh milkman working for a co-operative society in the 1940s.
His name is Connery, Sean Connery — now earning millions from his career as a film star.