A display of captivating 19th and early 20th century photographs from the MacKinnon Collection illustrates life beside Scotland's coastal waters.
Tourism, fishing and industry are some of the themes of the pictures on show. Historic images chart the changing Scottish landscape and capture our relationship with Scotland's seas and waterways. The display ran from 16 November 2019 to 15 February 2020.
The MacKinnon Collection includes more than 14,000 photographs dating from the 1840s to the 1940s. It was jointly acquired by the National Library of Scotland and the National Galleries of Scotland in 2018.
Images in the collection capture Scottish life and identity over 100 years. Items for the display have been chosen to tie in with Visit Scotland's 'Year of Coasts and Waters'. The display also celebrates Photography Scotland's annual season of photography.
Albums, postcards and slides
Striking Scottish scenery, traditional island communities, Clyde ship-building and the aftermath of the Tay Bridge disaster are all captured in pictures included in the display. Individual photographic prints and postcards are going on show, as well as albums. A screen is also showing images from glass slides on a loop.
Each photograph has its own history. Some are the work of professional commercial photographers, designed to be sold to the mass market. Others are just as intriguing, but with little information about their subject or the date they were taken.
Here are some of the display highlights:
Further images from the MacKinnon Collection are being shown in a National Galleries of Scotland exhibition, running from 16 November 2019 to 16 February 2020. The National Galleries of Scotland 'Scotland's Photograph Album' exhibition provides a representative sample of photographs in the collection.
More about the Mackinnon collection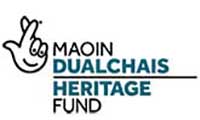 The collection was originally formed by the Scottish collector, Murray MacKinnon. The National Library and the National Galleries of Scotland collaborated closely to acquire it for the nation. The purchase was supported by the Scottish Government, the National Heritage Lottery Fund and the Art Fund.
Digitisation of the collection is under way, with a view to making the collection available online through both institutions over the next two years. Touring exhibitions are also planned across Scotland from autumn 2020.
2019 marks the 25th birthday of the National Lottery. To celebrate, at the National Library at Kelvin Hall, the first 200 people to show a lottery ticket will receive a free copy of the DVD 'Flying High: A compilation of 1930s Aviation Film from the National Library of Scotland's Moving Image Collection'.
Additional