2020 is the Year of the Scottish Coasts and Waters, so for this activity we'll be looking at the seabirds that make their home around the coast of Scotland.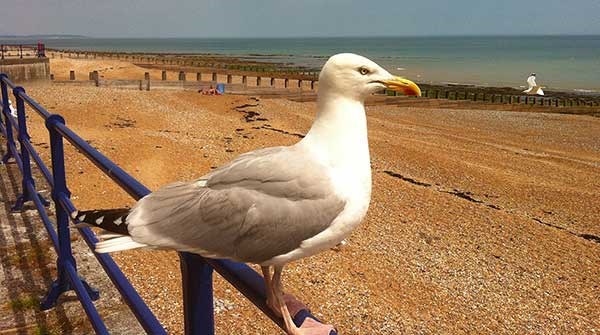 Listen to a herring gull recording, kindly provided by the Ornithologists' Club:
How many seabirds can you name?

Download and print off this Wordsearch (PDF) (1.8 MB; 1 page) to find as many birds as you can.
Listen to a story
We're probably all used to seeing seagulls, squawking and screeching in search of food. They're known for being very greedy, scavenging for left-over food, and following the fishing boats in the hope of something to eat. This traditional tale from North America tells the story of one greedy gull!
Myths and legends
There are lots of superstitions about seabirds, especially among sailors and fishermen. It was said that certain birds could bring good or bad luck.
For example, it was thought to be very unlucky to kill an albatross, and there's a famous poem about this by Samuel Taylor Coleridge called 'The Rime of the Ancient Mariner'. You can listen to it on the Poetry Foundation website.
You can also listen to this poem being read out day by day on 'The Ancient Mariner Big Read' website where a reading is added daily.
In contrast, cormorants were thought to be a good omen. Sometimes seabirds were thought to be the souls of men lost at sea, come back to visit their families. Can you find any more superstitions about birds?
Spooky tales
This next story is a spooky tale about a 'ghost ship' called 'The Seabird', which features a parakeet — a bird that's related to a parrot. 'The Seabird Mystery' is told by storyteller Jan Bee Brown.
Films
To find out more about seabirds in Scotland, you could watch these two films from our Moving Image Archive: