Science fiction is a hugely popular genre that attracts a global audience and forms part of the collections in the National Library of Scotland.
Here we feature three contemporary sci-fi authors based in Scotland. They talk about what science fiction means to them and the ideas that inspire their writing.
Gary Gibson

Born in Glasgow in 1965, Gary has been writing science fiction since the age of 14. After studying sociology, history and politics at Glasgow Caledonian University, Gary worked as a comics magazine editor.
Gary is the author of a number of science fiction titles including 'Angel stations' (2004) and 'Final days' (2011). His next novel titled 'The thousand emperors' is the second book in 'The final days' series and will be published in 2012. Gary is based in Glasgow and his blog is called 'White screen of despair'.
Watch Gary's video to hear about the cosmic ideas that inspire his writing.
Ken MacLeod

Ken MacLeod was born in Stornoway, Isle of Lewis. He has an Honours and Masters degree in biological subjects and worked for some years in the IT industry.
Since 1997 Ken has been a full-time writer. In 2009 he was writer-in-residence at the ESRC Genomics Policy and Research Forum at Edinburgh University.
Ken is the author of 13 novels, from 'The star fraction'(1995) to 'Intrusion' (2012), and many articles and short stories. His novels and stories have received three BSFA awards and three Prometheus Awards. Several have been short-listed for the Arthur C Clarke Award and the Hugo Award. Ken's blog is 'The early days of a better nation'.
Watch Ken's video to discover what inspired him to become a writer.
Charles Stross

© Charlie
Hopkinson
Born in Leeds and now based in Edinburgh, Charles Stross knew he wanted to be a science fiction writer from the age of six. He made his first commercial sale of his science fiction writing to Interzone magazine in 1986. Along the way to his current occupation, he went to university in London and qualified as a pharmacist.
Charles has published around 16 novels including 'Singularity sky' (2003) and 'The atrocity archives' (2004). He has won a Hugo award for excellence in the field of science fiction and fantasy and his novels have been translated into about a dozen languages. You can read more about Charles's work on his blog 'Charlie's diary'.
Watch Charles's video to learn about the inspiration behind some of his novels.
Science fiction in the Library's collections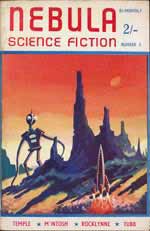 The National Library of Scotland has science fiction collections spanning the past, present and future of this under-explored area of Scottish writing.
Alongside authors like Iain M Banks, Steven Moffat and others are little-known writers like J T McIntosh and Naomi Mitchison. Key highlights also include the iconic space age illustrations of 'Nebula' magazine.
Visit the Scotland's science fiction treasures page for an overview of what's in the collections.
Additional