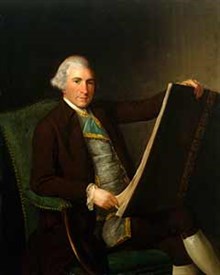 Robert Adam (1728-1792).
Robert Adam was born in Kirkcaldy on 3 July 1728, the son of architect William Adam. He was educated at Edinburgh's High School and University before joining his older brother, John, in the family business.
Robert's high school education in Latin immersed him in the culture of ancient Rome. The close-knit Adam family shared their social circle with major figures of the Scottish Enlightenment, such as David Hume, Adam Smith and William Robertson.
Raised in this intellectual environment, Robert cultivated an inquiring mind and the confidence to develop beyond the limitations of what it meant to be an architect in the 18th century.
Influenced by the classical world
At a time when most architects were considered to be on a par with builders and other tradesmen, Robert set out to educate himself in the art of drawing and the architecture of the classical world. With this knowledge he would be able to converse with his well-travelled aristocratic patrons as an intellectual equal, valued for his judgement in taste, elegance and style.
In 1755-1757, he undertook a 'Grand tour' through France and Italy. It was a period of intense professional training, in which the skills he learned in Scotland were tested and given an international finishing gloss by the Italian circle he moved in.
In Rome, Robert met the architect Giambattista Piranesi. Their shared passion for the city's ruins and composition of imaginary landscapes saw Piranesi dedicate a book to Robert: 'Antichità romane de' tempi della Repubblica' (1748). Piranesi's vision of the past and bold use of chiaroscuro exerted a strong influence on Robert's ideas of using light and shadow to dramatic architectural effect.
During his two years in Italy, Robert transformed himself into a cosmopolitan figure. He pursued contacts that would help him to establish an office with his younger brother James on his return to London. There, he would develop himself and his collection of pictures and antique fragments into what would ultimately come to embody the 'Adam style'.
See also:
Additional