Arbroath smokies being prepared on the
beach at Auchmithie, Angus.
© VisitScotland

Join us in monthly celebrations of Scotland's rich and tasty culinary heritage.
Throughout the Year of Food and Drink Scotland 2015, we are running a series of historical recipes from our collections.
And in June we will open our summer exhibition, which will explore the history of cooking in Scotland.
Monthly themes and recipes
December's
recipe: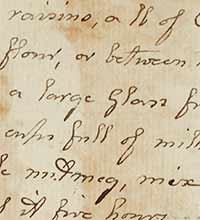 The Year of Food and Drink 2015 spotlights Scotland's delicious produce, along with culinary culture and traditions.
Starting with traditional foods in January, each month of the year focuses on a food and drink theme.
Our chosen historic recipe either ties in with an ingredient relating to that theme or, where there isn't a particular food / drink item, to something we think you might like to try making.
The Year of Food and Drink 2015 is an initiative led by Scottish Government in partnership with VisitScotland, EventScotland and Scotland Food and Drink.