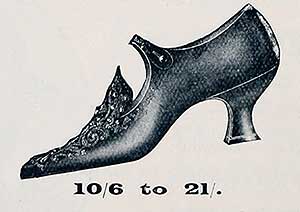 Business and enterprise is about knowledge and hard work, but it is also about inspiration, and it can be a hugely creative and rewarding experience too.
To show you that we mean business, we have written a short story about how businesses and innovators can use the National Library of Scotland's collections.
Have we got shoes for you!
So, you're a school leaver, or a NEET, or another term that someone else has pigeon holed you in.
No you're not. You're a frustrated fashion designer, only, no-one knows that you're frustrated, or a fashion designer. But it's all going on. Inside. Designs, ideas, why-isn't-there, why-hasn't-someone …
Then you see this on a bus shelter — an advert for something at the V&A featuring Naomi Campbell falling on the catwalk wearing a Vivienne Westwood shoe design:
'It was the ankle roll heard 'round the world: back in 1993, supermodel Naomi Campbell walked the Vivienne Westwood runway show in Paris in a pair of Westwood's notoriously high platform heels — and fell'.
Bang.
---
Want to start a business as a shoe designer? Go to the National Library of Scotland.
You register as a reader. It's dead easy.
In the reading room there is a wide range of books to help set up your business, to make you feel like you're not alone, that this is a GOOD IDEA.
Books range from starting your own business, social media and the entrepreneur, how to write a business plan, book-keeping and many more in the reference area.
There is a section for market research reports and also trade directories — aha! An excellent trade directory on supplies for embellishing the shoes.
It's nearly 7.00pm, and you're meeting friends in Glasgow that night. Got to get the train.
Before you leave you ask someone if you can borrow a couple of books. You can't, but what you can do is use quite a lot of the digital kit remotely. Excellent.
You're on the train. You log in to COBRA. This resource gives information on setting up a business, from what qualifications you might need to trading issues and legislation.
You have a great night out, but your friends can tell you're distracted. You talk about shoes, but don't say why — not yet, too early.
Some excellent free market research though.
Hmmm, free market research. Now where could you get that?
---
COBRA – Complete Business Reference Advisor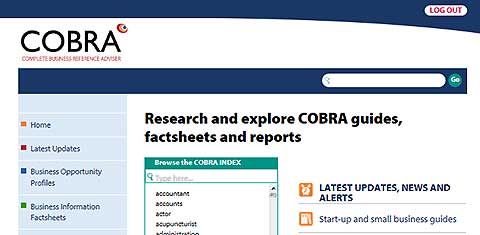 ---
11.00am and you are heading to the café at the Library. You have arranged to meet the business information advisor who is going to talk to you about the various resources and how to work with them.
Turns out there is no shortage of free market research and market intelligence data at the National Library of Scotland. Mintel is one of the main resources.
You log in and search for footwear, shoes, fashion …
…
… Thank heavens the Library is open until 8.30pm.
---
A week later, you're well into it. When you're not checking Mintel you're looking on Factiva for stories and information about shoes, fashion, brands, designers, markets, suppliers.
Factiva is a news and business search service covering over 30,000 leading newspaper titles, news sources and company information from around the world.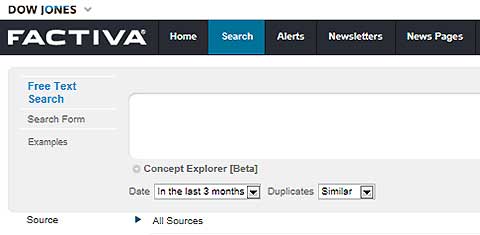 You bump into the business information advisor and have a really good chat.
'Ready for the rest?' they say. 'Business resources are just the beginning of how we can help. Have you looked at our back issues of "Vogue", "Cosmopolitan" and "Vanity Fair"?'
You do an advanced search on 'shoe' and 'design'. The Library has, among many other interesting-looking hits:
100 shoes; Beth Levine Shoes; Concise shoe making dictionary; Footwear design; Jimmy Choo Story; Manolo Blahnik drawings; Shoes a history from sandals to sneakers; Shoe a-z; and 'The ultimate shoe guide'.
You need to take all of this in, so you go for a coffee in the café and get talking to a guy who is researching honey and glycine uptake with a view to producing an enhanced brand that improves sleep and muscle repair in high performance athletes.
---
You fall in love with the National Library of Scotland. You feel safe and uplifted and understood. You feel at home.
That night and every night for a week, you fall asleep and wake up thinking about shoes, and about business, and about what is happening in the fashion sector, but one night all you can think about is poor Naomi's ankle, and you remember that what you really wanted to do was bring to Scotland style and poise, but not at the expense of podiatric health.
You search the catalogue for feet, and feet related terms. Kaboom!!!
You particularly enjoy reading 'Foot efficiency: a resumé on weak and "tired" feet, with prescriptive directions for improving function, shape and structure', published in 1924. The use of language captures precisely the sound you have in your head when thinking about branding. 1920s fashions and themes emerge, and you learn from talking to staff at the Library that there is a reasonable chance that some images from that period might be out of copyright.
You start to keep a file of titles with good images and quotations.
But the gold is found in the latest science journals that are online. Loads of articles about foot health, chiropractic medicine, sports shoe design, and so on. So useful that a lot of this can be accessed remotely.
'Increased athletic performance in lighter basketball shoes' anyone? Or how about 'Effect of shoes with rounded soft soles in the anterior-posterior direction on the center of pressure during static standing?'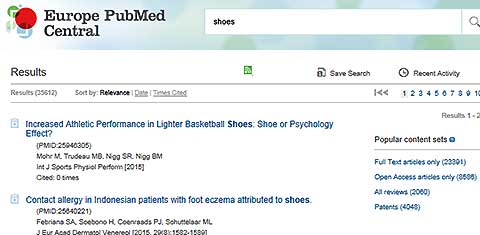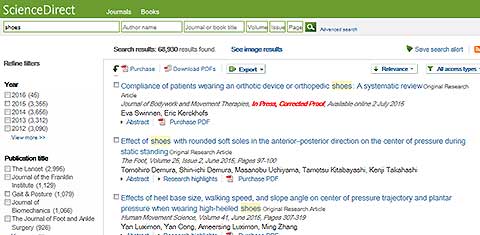 ---
What you love about the e-journal content on resources like ScienceDirect is the abstracts. You can get a sense of an entire article and whether you might want to read it all. Even if you don't read it all, you pick up so much stuff without realising it.
Sometimes, the e-journal stuff has to be read at the Library. That's because it is legal deposit content.
You get that the Library's collections are the biggest in Scotland only because of this requirement for publishers to give them their content for free, so the train in from Falkirk is no big deal. You quite like that sense of 'going to the office' anyway, and having a place to concentrate and focus.
One day you read something at the Library and a whole new area opens up — fungus.
Joanne Yip's article 'Investigation of antifungal and antibacterial effects of fabric padded with highly stable selenium nanoparticles in the 'Journal of Applied Polymer Science' has got you thinking about anti-bacterial fabric. Your ankle friendly high heels are going to be so anti-fungal.
---
Abstract:
'In this article, highly stable selenium nanoparticles (SeNPs) were padded onto fabric to obtain, for the first time, antifungal and antibacterial fabric. SeNPs are prepared from a simple food‐grade redox system by using polysaccharide-protein complexes (PSPs) isolated from the mushroom sclerotia of Pleurotus tuber‐regium (tiger milk mushroom) as a modifier or stabilizer. The novel PSP-SeNPs are highly stable, size‐controllable, and water‐dispersible. Different amounts of PSP-SeNPs were applied onto fabric by using the pad-dry-cure method. It was found that the fabric treated with PSP-SeNPs can inhibit more than 99.7% of Trichophyton rubrum growth over a testing period of 7 days. The inhibition of Staphylococcus is effective in the first 12 h. The fabric treated with PSP-SeNPs is a promising material that can potentially be used inside shoes as insoles or shoe material to reduce the possibility of tinea pedis infection usually caused by the T rubrum fungus.'
© 2014 Wiley Periodicals, Inc. J Appl. Polym. Sci. 2014, 131, 40728
---
And then it hits. The overwhelmingness of it all.
Too. Much. Information.
You talk to the business information advisor again.
'I wanted to be the next Vivienne Westwood, and now I'm a tiger milk mushroom researcher. What went wrong?' you say.
Nothing went wrong. You took the tip off the top of an iceberg and it turned into a volcano. That's normal when you are sitting on a pile of 26 million things.
What you need to do is re-establish where you came in at. Other people, like Joanne Yip, are taking care of bacterial foot and fabric science.
You want to design and sell shoes.
But great shoes. With a purpose and an identity.
---
You go back to the reading room shelves and read some great books about business acumen, time management, entrepreneurship, and so on.
You distil, digest, reflect. You plan. You organise.
You talk to some people, then talk some more. You fine tune.
You have the busiest 24 months of your life.
---
The folk that made the uppers, they were Scottish.You found them through the FAME database at the Library.
The leather was Scottish too. The orthopaedic inners were designed by Glasgow School of Art to a specification that you had worked with them on. You couldn't believe that funding had been available to help you work with them.
That day when the Library's GRANTFinder resource sent an email about funding for CAD related projects changed everything.
The internal selenium fabric was the hardest part, finding a supplier and understanding import regulations whilst keeping within the unit cost.
The packaging is from a company in Watford, and a major store is talking to you about an exclusive deal for next season.
You gave an interview to the 'International journal of podiatric biomechanics', and 'The chiropodist' is running a two-page feature this month.
You got styling from 'Vanity Fair' magazines at the Library, and a great story about a cobblers from the town that you grew up in that you found in a local history pamphlet at the Library gave your brand a great provenance.
And now it's launch night. At the Library. You challenged Naomi to walk down the National Library of Scotland's main staircase in your shoes without falling. She said yes.
They are staying open until 10.00pm tonight.
---
Story by Elaine Simpson and Graeme Hawley, National Library of Scotland, 2017.
To find out about our business information resources, email enquiries@nls, or phone 0131 623 3914.
Additional