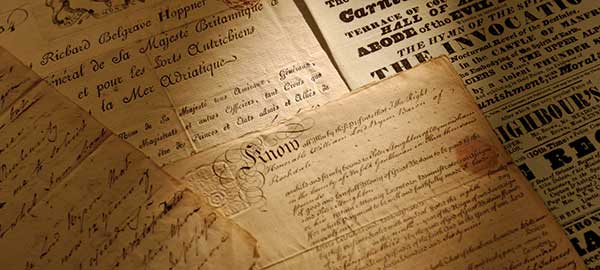 The John Murray Archive contains fascinating information about the creation of some of the most popular and important works in British literature.
The house of John Murray published poetry, novels, scientific, religious and political works, travel writing, biography, periodicals, and educational titles, and continues to publish books today, although it is no longer a family firm. Its authors included:
In the 20th century Murray published authors such as John Betjeman, Kenneth Clarke, Patrick Leigh Fermor, Osbert Lancaster, Ruth Prawder Jhabvala, Dervla Murphy, Freya Stark and Edith Wharton.
In purchasing the firm of Smith Elder & Co they also acquired a wide range of other famous names including:
Sir Arthur Conan Doyle
George Eliot
Thomas Hardy
John Ruskin.
Ledgers and correspondence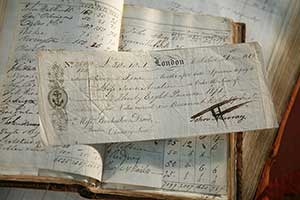 A John Murray ledger and a cheque payable
to Jane Austen.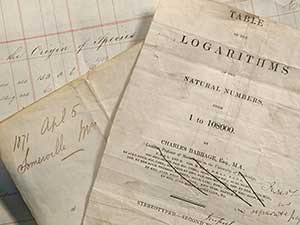 Science
is well represented in the Murray
Archive.
The archive contains the business papers of the publishing firm John Murray from the 18th to the 20th century.
Through business ledgers and correspondence researchers can explore how books are made by authors, publishers and printers, and find out which books were bestsellers and which were unpopular with the reading public.
Each generation of the Murray family shaped the firm's publishing activities in a new way.
This is reflected in the correspondence with authors and other publishers, and its business ledgers recording information about printing and selling books.
The archive also contains the largest collections of papers relating to the Romantic poet Lord George Gordon Byron (1788-1824) collected together and preserved by the Murray family.
Edinburgh to London and back again
It all began in Edinburgh where the first John Murray was born in 1737.
Murray moved to London to set up as a bookseller in 1768 — first in Fleet Street and later in Albemarle Street.
However, the family's social and business connections with Scotland continued, as Edinburgh was an important centre of the British book trade.
The archive at the Library
The first part of the archive came to the National Library of Scotland in Edinburgh in 2006, and we have subsequently received further material relating to Murray publishing in the 20th century.
We continue to acquire archive material relating to Murray authors, such as travel writer Patrick Leigh Fermor (1915-2011).
Much of the archive collection is listed on our main catalogue, but if you cannot locate what you are looking for please contact manuscripts@nls.uk.
Additional