The pre-eminent collection of Scottish literary manuscripts from the 15th to the 19th centuries is at the National Library of Scotland.
Our collections of the manuscripts and letters of Sir Walter Scott and Thomas Carlyle are the finest and most extensive in the world.
Among the most outstanding early literary manuscripts are:
Manuscripts of the national epics — Blind Harry's 'The Wallace', and John Barbour's 'The Brus'
The Scots verse collections of John Asloan and George Bannatyne
The Gaelic 'Book of the Dean of Lismore'
We also hold notable collections of the manuscripts and letters of:
William Drummond of Hawthornden
Allan Ramsay (the elder)
J G Lockhart
James Hogg
Walter Scott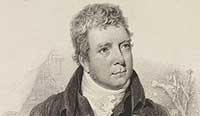 Sir Walter Scott.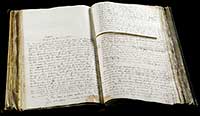 The 'Waverley' manuscript.
We hold the manuscript of Sir Walter Scott's ground-breaking historical novel 'Waverley'. We also have the manuscripts for two of Scott's most iconic works, 'The Heart of Midlothian' and 'Redgauntlet'.
In addition to our collection of Scott's literary manuscripts, we possess the biggest collection of Scott's correspondence to be found anywhere. We hold over 3,500 letters written by Scott, and around 6,400 letters which were addressed to him.
For the location of these letters, and others, visit the Millgate Union Catalogue of Walter Scott Correspondence.
For an interactive map showing the geographical extent of Scott's correspondents, visit the Encyclopedia of Romantic Nationalism in Europe.
Additional