The 'Sir Walter Scott and the Historical Novel' display marks the 250th anniversary of the birth of Sir Walter Scott (1771-1832). Ran from 12 November to 28 May.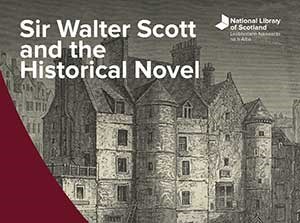 Sir Walter Scott was a key figure in developing the historical novel and is one of Scotland's most important authors.
Scott was crucial in creating and shaping part of Scotland's national identity in the 19th century, and that legacy is still felt today. His technique of setting stories in familiar historical events and bringing together fictional characters and real-life figures proved widely popular with readers.
First editions of Scott's novels will be on display alongside a significant collection of his correspondence, engravings, and original manuscripts, including 'The Heart of Mid-Lothian'.
'The Heart of Mid-Lothian'
First published in four volumes in 1818, Scott's historical novel 'The Heart of Mid-Lothian' is often considered to be one of his finest works. It was published shortly after his popular novel, 'Rob Roy'.
Real places and historical events, including the 1736 Porteous Riots, provided inspiration for the plot. The title refers to the name of the Old Tolbooth Prison in Edinburgh, where the character Effie Deans is awaiting trial, accused of murdering her child. Effie's sister, Jeanie Deans, believes she is innocent. Jeanie walks from Edinburgh to London, to ask for a pardon for her sister from the Queen.
Walter Scott 250 network
The National Library is part of the Walter Scott 250 partnership network, which includes over 50 organisations dedicated to celebrating Scott's legacy. 
You can find out more about the Walter Scott 250 network, the organisations involved and associated events on their website.
Edinburgh College of Art display
First-year students from Edinburgh College of Art illustrated comics inspired by scenes from 'The Heart of Mid-Lothian'.
They learned about the life and times of Scott, and some of the key landmarks featured in the novel during a workshop with the Library's Manuscripts Curator, Ralph McLean.
The illustrations are available on the 'The Heart of Mid-Lothian' comics page.
Additional