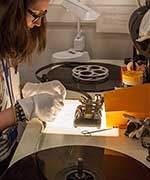 The Moving Image Archive at the National Library of Scotland is always growing.
It includes amateur and professional films which reflect Scottish life, society, industry and culture from the 1890s to the present day.
We add films to the archive largely through voluntary donations and in collaboration with film-makers. As a general policy we do not buy material for the collection.
Donating your films
You can help us grow our collection by donating your films, videotapes, DVDs or digital recordings relating to Scotland and Scottish life.
Donating your film to the collection does not mean that you need to hand over your rights. We will ask that you let us use your content for historical research and community and educational purposes.
What we collect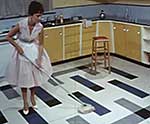 Moving images can be:
Film / videotape / digital files
Fiction or non-fiction
Amateur or professional.
We also collect items related to the history of cinema in Scotland, such as:
Cinema memorabilia
Photographs
Publicity materials
Scripts / posters
Business / private records relating to the film-making and the cinema exhibition industry in Scotland
Any other cinema related artefacts / items.
Film / video identification
If you have films or videotapes and are wondering what they might be, please contact us.
Visit Film Archives UK for more information, including:
Identifying a film, video or digital file
'Moving image collections: guidance notes' — a BFI-produced document which includes a film gauge identification chart.
For advice about the dangers of nitrate film and its identification, visit the Health and Safely Executive for their leaflet, 'The dangers of cellulose nitrate film'.
How we collect
If you have a collection of films, videos, or digital files you would like to offer to the archive, please use the online enquiry form to contact our Acquisitions Curator before moving the collection to our premises.
We carry out the following procedures:
For all items:
Check the condition and repair the item if necessary so it can be viewed without damage
Assess the content for its historical significance
Compare the content to what we already hold in the collection.
For items we acquire:
Work with the donor to acquire the item by asking them to sign a formal agreement.
For items we do not acquire:
Work with the donor regarding their wishes for the item either to be returned to them, or offered to another archive, or disposed of.
Find out more
Contact our Acquisitions Curator by using the online enquiry form or phone 0141 880 2308 for further information.